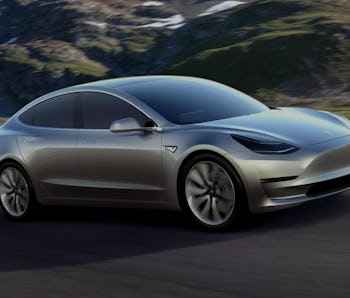 Innovation
4 Big Questions About the Tesla Model 3 Before the Earnings Call
Elon Musk's future car is almost here.
Tesla
The anticipation around the Tesla Model 3 is growing as the electric car-maker approaches a production date for the $35,000 (before a $7,500 federal incentive) car.
The estimated 400,000 people who have made their $1,000 reservation — Tesla's limiting it to two per person — will wait for any Tesla Model 3 news out of the company's fourth quarter 2016 earnings call on Wednesday.
Here are four big questions Model 3 reservation-holders have and hope to hear clarification on during the earnings call after the markets close on Wednesday.
See also: How to listen to Tesla's earnings calls
When is the Model 3 arriving?
Initial deliveries for the Model 3 are scheduled for the end of 2017, but fans are taking bets that Tesla will miss this deadline. It's a fair assumption: the company missed its dates for the Roadster, Model S, and Model X. The Model 3 is also expected to be a far bigger launch than any of those.
The company has temporarily shut down manufacturing equipment for a week this month at its Fremont plant to start preparing for Model 3 production, but the pause is unexpected to hit production times as it's added extra production days to make up for it.
Musk said in a May 2016 earnings call that the company had set a July 1, 2017 deadline to start production, but even he admitted at the same time that it was an impossible deadline, aimed more at holding suppliers' feet to the fire in providing parts. As this deadline approaches, it's possible that Musk will provide some clarity to reassure investors that the Model 3 won't overshoot its deadline.
What options will the Tesla Model 3 have?
Tesla could provide clarity on the Model 3's pricing options during the call, additional extras at the checkout. This would go some way to persuading investors that progress is being made on the project, and it would allow consumers that have placed a deposit to begin planning for their purchase. An on-site configurator would help buyers understand how premium options could increase the price of the relatively cheap vehicle.
Will Tesla Continue to "Anti-Sell" the Model 3?
Musk has not made it a secret that he wants to "anti-sell" the Model 3. In the October 2016 earnings call, Musk explained that the company will entice buyers in with the cheaper model, before trying to push them onto the Model S or Model X. As Tesla has a large backlog of pre-orders to work through, it also makes little sense to create more work if the same buyer can also be persuaded to buy one of the more expensive models.
The other point to consider is that Tesla has racked up incredible pre-order numbers through very little actual promotion. On Wednesday, Musk may give more detail about the company's strategy for after the car launches. Hype is cool, but as the company is aiming to produce 500,000 cars in 2018, Tesla may need to roll out some sort of marketing push to maintain sales momentum.
What's up with the Gigafactory's construction progress?
At the heart of Tesla's ramped up production plan is the Gigafactory. Its lithium-ion battery production capabilities will be astounding once it's done. It's estimated that 100 Gigafactories will be enough to transition the whole world onto renewables. In 2015 Musk said of the Gigafactory, "cells will be going through like bullets from a machine gun. In fact, the exit rate of cells will be faster than bullets from a machine gun."
Construction is not yet done, but the areas that have been complete have been producing the "2170 cells" necessary for the Model 3 since January. Those cells are also in use by the Powerwall 2 and Powerpack 2, though, and it was revealed last week that an unexpected backlog of Powerpack 2 orders had delayed the Powerwall 2. It's unclear whether this delay could have a knock-on effect on the Model 3.
The other aspect investors will want to know about is cost. The total cost of construction has already passed $1 billion, and aerial photos show the plant is still under construction.
If Tesla wants to reach its car production goal for next year, investors will expect some clarity on the speed of Gigafactory construction. Delays or unexpected challenges will have a direct effect on the Model 3.
Update 2/22: An earlier version of this story listed the federal incentive as being worth $75,000. The correct figure is $7,500.