People Are Betting Hundreds of Dollars the Tesla Model 3 Will Come Out Late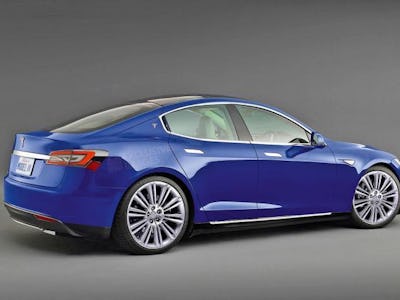 Flickr / nordique
Tesla will start test production for the Model 3 on February 20, hoping to roll out full production in July, as planned. At least that's what the car company says. But people are betting hundreds of dollars that Tesla's going to miss a deadline, once again.
According to a Reuters report, the affordable all-electric car will start test production in the company's Fremont, California facility later this month. Tesla announced Wednesday it would shut down the facility for a week this month to prepare to produce the Model 3, which definitely supports that date — but a bunch of redditors think that it's going to be too late.
As Model 3 production rumors built earlier this week, Reddit user "cliffordcat" announced they will donate a dollar a day to the American Society for the Prevention of Cruelty to Animals if Tesla starts mass production before Dec. 1. If Tesla starts mass production of the Model 3 after Dec. 1, everyone who signs up for the bet must give a dollar a day to another charity. For every three people who sign onto the bet, cliffordcat will give an extra dollar, capping their donation at $500.
"I think there's a way to turn our (usually) friendly disagreements into something positive," cliffordcat said. "It's no secret I'm pessimistic on Tesla's ability to make the Model 3 'on time.'"
Another skeptical redditor says, "The fact that Tesla is only just now building their test fleet tells me that they are no less than a full year out from serial production, if not substantially more. When dealing with a brand new design, there is an absolutely enormous pile of work that can only be completed by substantial and intensive hands-on work on the engineering samples. I would be absolutely shocked if any Model 3's are in customer hands before March 2018."
There's a reason why people are skeptical. After all, Tesla has missed deadlines and delivery targets before. Tesla missed its publically announced production deadlines for the Roadster, Model S, and Model X. And according to the Wall Street Journal, Tesla failed to meet deadlines on more than 20 of Musk's ambitious projections.
So far, about 370,000 investors have put down deposits for the Model 3. The car looks promising, as Tesla plans to produce 500,000 Model 3 cars in 2018. This vehicle will be $35,000, making it a relatively affordable electric vehicle. It's going to have the ludicrous speed mode and a range of at least 200 miles on full charge, as well as full self-driving capabilities.
Tesla first unveiled the Model 3 in April 2016. It just made an appearance in prototype form last month at a Gigafactory event where Tesla announced it had started mass producing battery cells. But will Tesla actually start producing the Model 3 this year? Only time will tell, and either way, one charity is going to get a little bit richer.