Tesla's Gigafactory is Branching Out From Batteries to Model 3 Motors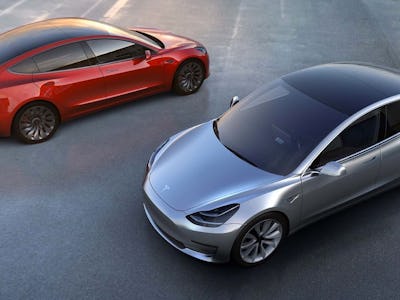 Flickr / Automotive Rhythms
Tesla's Gigafactory can produce more than batteries — and it's going to start by making engines for the new Model 3. Nevada Gov. Brian Sandoval announced last night that the Gigafactory will expand to making electric motors and gearboxes for the Model 3, creating 550 more jobs for his state.
"As you all know, Tesla's Gigafactory project has impressively contributed to our economic growth story," Gov. Sandoval said. "…Tonight, I am pleased to announce that Tesla will expand its investment in Nevada by producing the electric motors and gearboxes for the Model 3 at the Gigafactory."
According to Gov. Sandoval's State of the State address on Tuesday, the new project will lead to more than $350 million in additional capital investment and 550 more jobs. Gigafactory's expansion to producing motors means the factory will have strong industrial capabilities.
The Gigafactory opened in June 2014 outside Sparks, Nevada. Since then, the Gigafactory has started mass-producing lithium-ion batteries, called the "2170 cell." These cells will be used for the Powerwall 2 and Powerpack 2 energy products, as well as the Model 3.
Right now, Gov. Sandoval said, Tesla has more than 1,000 full-time employees and 2,000 construction workers at the Gigafactory.
So far, about 5 million square feet of the Gigafactory has been built, so it's about 30 percent finished. Although it's projected to be one of the largest buildings in the world, so far, it only has a carbon footprint of 1.9 million square feet, since the Gigafactory uses renewable energy sources. In the long run, Tesla CEO Elon Musk hopes Tesla achieves net-zero energy.
According to Tesla, the Gigafactory will reach full capacity by 2018 and produce nearly as many battery cells as the rest of the world's battery production combined. Check out some drone footage of the Gigafactory construction site here.