Watch Elon Musk's Speeches to Get the Politics Out of Your Mouth
Real futurism trumps faux populism.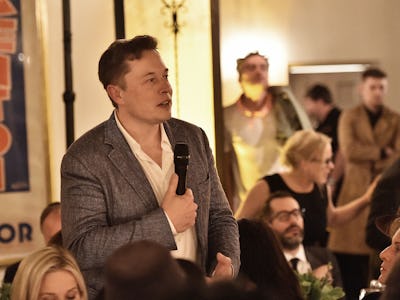 Getty Images / Mike Windle
Elon Musk is many things: genius, playboy, auto magnate, space pioneer, and science fiction nerd. He is not, however, a great orator, which is why his speeches often don't get the attention they truly deserve. But those who look past the delivery, which is a bit more Zuckerberg than Obama, are richly rewarded with fascinating new ideas and a sense of optimistic opportunism that is as infectious as it is antithetical to the nostalgic politics that currently dominate in Europe and America. Musk isn't a political figure, but he might also be the most important political figure of our time. That may sound odd, but his public persona is hard to parse because he's such an unusual figure, a man bent on pushing his ideas rather than his agenda. Elon Musk doesn't mind talking about Elon Musk, but he prefers talking about climate change, electric vehicles, and Mars.
Regardless of what you think of the Hyperloop, that's refreshing.
Here are the top ten Musk speeches and interviews from 2016, just in case you missed any of the wild things he said this year:
10. The Hyperloop Pod Award Ceremony
Musk's Hyperloop idea promises incredibly fast travel and shipping, but there's a lot of work to be done before it's a reality. Companies like Hyperloop One are working on it, while SpaceX held a competition back in January for pod designs. After the MIT team was awarded first place, Musk came out and talked about the next competition and answered a few questions from the audience at Texas A&M University.
9. The BBC Interview
Musk sat down with Rory Cellan-Jones, a technology journalist at the BBC, back in January and laid out his vision for Tesla. He also talked about the electric car market more generally, touching on his belief that Apple will end up making a "compelling" electric car. When asked why he thought that would happen, Musk reached for his trademark honesty. "It's pretty hard to hide something if you hire over a thousand engineers to do it," he said.
8. StartmeupHK Venture Forum
During an interview at January's StartmeupHK Venture Forum in Hong Kong, Musk talked about Tesla's design and role in China, SpaceX's Mars goals, and gave some advice to entrepreneurs. He also discussed a few ideas he'd love to see other people take on, like electric aircraft and a brain-computer interface.
7. Unveiling the Tesla Model 3
Musk unveiled Tesla's latest car, the Model 3, at the end of March to an enthusiastic crowd of Tesla fans. It was a slick presentation that showed off some of the engineering behind Tesla's most affordable offering yet, like the single pane of glass for the windshield and roof, and the six seconds it takes for the Model 3 to get up to 60 mph.
6. Before the Flood
It's not an interview with President Obama or Piers Sellers, but Leonardo Di Caprio's tour of Tesla's Gigafactory in the National Geographic documentary Before the Flood is well worth the watch. Musk lays out the rationale behind solar power, the need for a carbon tax, and Leo gets really excited about some robots.
5. Code Conference 2016
Musk gives a bit of a science lesson in this June interview, explaining how orbital physics works and how it affects SpaceX's missions. He also announced that he hoped SpaceX would be getting people to Mars by 2025.
4. "How to Build the Future"
Musk talks about SpaceX and how he approaches ideas, but the best part of this interview with Y Combinator is when he gets into the nitty gritty of the future of artificial intelligence. He predicts some pitfalls and talks about neural lace technology. He also gets extra points for looking like the captain of the Palo Alto High School football team.
3. Gigfactory Grand Opening
The Gigafactory, in Nevada, is where all of Tesla's solar cells and batteries are produced for vehicles and rooftops, and it is quite a feat of engineering. In fact, Musk said, the factory required more engineering than the stuff the factory produces.
2. Powerwalls and Solar Roof
Instead of a conference hall, Musk took the stage in a "neighborhood" at Universal Studios to announce the results of Tesla's SolarCity acquisition: solar panel roof tiles that don't look like solar panels at all. The panels connect to the Powerwall 2, a battery that can charge the Tesla in your garage or power your home.
1. "Making Humans a Multiplanetary Species"
Musk's most exciting appearance of the year was at the International Astronautical Congress in Mexico in late September. He laid out SpaceX's plan to get humans to Mars with reusable rockets and methane fuel that can be produced on the Martian surface. He also put a price tag on a one-way ticket: $200,000. Start saving.
Going into 2017, we can expect to hear more about autonomous vehicle road trips, rocket launches, and more news about the Tesla Model 3 sometime in the spring. Stay tuned!