It's Not Too Late to Enter SpaceX's Hyperloop Pod Competition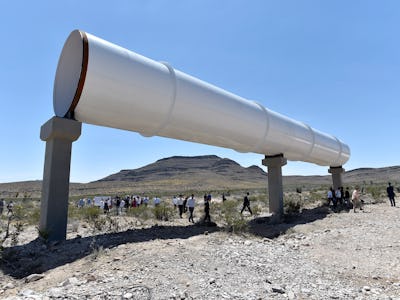 Getty Images / David Becker
September 30 is the cut-off date for entries for the 2017 SpaceX Hyperloop Pod Competition. The competition, which will focus on building a pod, will take place in January. Part one of the contest, which focused on designing a pod, took place last January.
The competition was created to challenge teams to design a pod that would achieve Elon Musk's 2013 vision of a hyperloop transit pod that would travel at more than 700 mph through a low-pressure tube, cutting down a commute that could take hours to mere minutes. Last year 125 teams comprising 1000 college students competed in the competition hosted at Texas A&M. The team from the Massachusetts Institute of Technology took gold at the competition.
Last year SpaceX founder Elon Musk showed up at the awards ceremony where he sang the praise of tunnels as the solution to growing urban congestion. The top 10 competitors were set to test their pods at Telsa's Hawthorne design lab this past summer, but testing was delayed until the upcoming competition.
The winning team at MIT revealed the prototype for their design in April. The MIT team chose to focus on aspects like levitation, braking, and control rather than the actual look of the pod because the look isn't "necessary to prove hyperloop," project manager Mayo told Inverse. Creating the prototype, which was a little over eight feet long and weighed 550 pounds, cost around $150,000. With their prototype already built, MIT is a strong contender for this year's competition.
The competition's 2015 keynote speaker, U.S. Transportation Secretary Anthony Foxx, said that the Hyperloop "may be a candidate for research funding from his department," but the technology still remains a whitepaper dream.