Elon Musk: First Hyperloop One Test Was a Success "Without Any Help From Me"
The very busy Tesla and SpaceX CEO is happy someone is building his Hyperloop.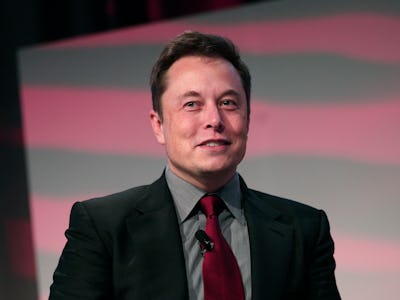 Bill Pugliano / Stringer / Getty
When Elon Musk conjured up the idea for the Hyperloop, he was, as he is now, quotably preoccupied with getting to Mars. So Musk open-sourced the idea.
On Wednesday, Hyperloop One became the first company to show off a successful Hyperloop propulsion test. In front of the media, the pod platform prototype whizzed across an un-tubed, half-mile track in the Nevada desert for five seconds at a little under half of the speed that the real Hyperloop will travel -– but it worked! And don't think Musk didn't notice.
"Full credit to the team that's doing this. All happening without any help from me," he wrote on Twitter.
Another thing Musk doesn't have anything to do with is the design and construction of passenger pods that will travel inside a hyperloop tube. While his space exploration company SpaceX sponsored a design competition for teams mostly comprised of college students back in January, (MIT won), and will host a pod test-run with 18 of the best teams later this year, that's as far as the involvement goes. And neither HyperloopOne, nor its rival Hyperloop Transportation Technologies, would be required to use those college student-designed pods (although they should really consider it.)
Musk is a fun follow on Twitter, in part because but he's not afraid to show a little attitude. (Two hours after his Hyperloop One tweet, the futurist billionaire posted an article which suggests he's "overrated." He provided his own caption of "Definitely.")
With the recent success of SpaceX's Falcon 9 missions, Tesla's record-breaking Model 3 launch, and now a positive first step in the creation of a real hyperloop, it's nice to know that being at the forefront of all these world-changing advancements isn't going to his head.