Elon Musk's SpaceX Announces the 125 Teams for Hyperloop Design Competition 
by Sam Blum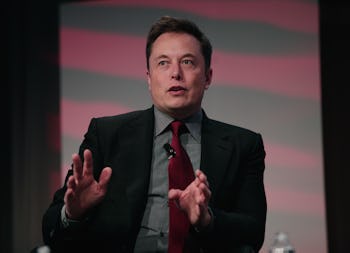 Getty
Back in November, SpaceX revealed it received 125 submissions for its design competition for the Hyperloop — Elon Musk's pneumatic tube train that will shuttle humans at 700 mph.
Today, SpaceX revealed the official number of students involved in the competition and more than 1,000 students from all over the world are primed to unveil their Hyperloop pod prototypes at the contest's first stage, held at Texas A&M University January 29-30, 2016.
The teams comprise a very international group of aspiring innovators from 20 different countries and 100 universities.
While their designs should vary markedly, some of the groups are experimenting with technology that's quite similar to how hoverboards work.
Hyperloop was born from Elon Musk's idea of a rapid transit system based on air pressure and conduction, meant to shuttle passengers from Los Angeles to San Francisco in 30 minutes. It's supposed to be a lot cheaper than the eventual high-speed bullet train bound to navigate California, although some engineers have questioned Hyperloop's viability.
In a reasonably hypothetical future, Hyperloop could look like something this, if viewed in Kansas, maybe:
Although his aerospace company is sponsoring the student design contest, Musk is very much removed from the process, offering pretty much only the Hyperloop's origin story.
Meanwhile, the first ever Hyperloop tests are set to take place in North Las Vegas early next year.
The January passenger pod competition at Texas A&M is the first leg in a multi-step process, and various judges representing Elon Musk's flagship companies — Tesla and SpaceX — will determine which teams make the next round, where they'll test their pods on a test track outside SpaceX's Los Angeles headquarters next summer.
The teams, according to Texas A&M, are as follows:
Air Force Academy + University of Colorado at Colorado Springs
Andrews University
Arizona State University
Auburn University
Baylor University
Binghamton University
Birla Institute Of Technology and Science (India)
Bucknell University
Cairo University Engineering (Egypt)
California Polytechnic State University
California Polytechnic State University, Pomona
California State University
Carleton College
Carnegie Mellon University
Clemson University
Colorado School of Mines
Cornell University + Harvey Mudd College + University of Michigan + Northeastern University + Memorial University of Newfoundland (Canada) + Princeton University
Delft University of Technology (Netherlands)
Diablo Valley College
Drexel University
Embry-Riddle Aeronautical University
Florida Institute of Technology
Franklin W. Olin College of Engineering
Georgia Institute of Technology
Hobart and William Smith Colleges
Imperial College London (UK)
Iowa State University
Istanbul Technical University (Turkey)
JSS Academy of Technical Academy (India)
Keio University (Japan)
KLS Gogte Institute of Technology (India)
Lahore University of Management Sciences (Pakistan)
Lehigh University
Lodz University of Technology (Poland)
Louisiana State University
Malaviya National Institute Of Technology (India)
McGill University (Canada)
McMaster University (Canada)
Missouri University of Science & Technology
Massachusetts Institute of Technology
National University of Singapore (Singapore)
New York University
New York University Shanghai (China)
Nitte Meenakshi Institute of Technology Bangalore (India)
Ohio State University
Oral Roberts University
Politehnica University of Bucharest (Romania)
Purdue University
Queens University (Canada)
RMIT University (Australia)
Robert Morris University
Rochester Institute of Technology
Rutgers University
RVR & JC College of Engineering (India)
Ryerson University (Canada)
San Jose State University
Shiv Nadar University (India)
SRM University (India)
St. Olaf College + Carleton College
Stanford University
State University of New York at Binghamton
Stony Brook University + University of Virginia (UVA)
Technische Universität München (Germany)
Texas A&M University
Texas Tech
The Pennsylvania State University
Turin Polytechnic University in Tashkent (Uzbekistan)
University of California Los Angeles
University of California San Diego
University of California Davis
University of California Irvine
University of Central Florida
Universidad Anáhuac (Mexico)
Universidad de Alcalá/Gaia (Spain)
Universidad Panamericana (Mexico)
Universität Oldenburg/HS Emden-Leer (Germany)
Universitat Politècnica de Valencia (Spain)
University of Alabama
University of Arizona
University of California Berkeley
University of California Merced
University of California Santa Barbara
University of Cincinnati
University of Colorado Denver
University of Edinburgh (Scotland)
University of Florida
University of Hawaii
University of Illinois
University of Maryland + Rutgers
University of Minnesota
University of North Texas
University of Pennsylvania
University of Pisa (Italy)
University of Pretoria (South Africa)
Tuks Squadra
University of Toledo
University of Toronto (Canada)
University of Washington
University of Waterloo (Canada)
University of Wisconsin
Badgerloop
University of Wisconsin-Milwaukee
University of Southern California
University of Texas Austin
GuadaLOOP
University of Texas Dallas
Virginia Tech
Wichita State University
High Schools
El Segundo High School (El Segundo, California)
St. Johns School High School (Houston, Texas)
Conant High School (Hoffman Estates, Illinois)