This Proposed Hyperloop Prototype Pod Would Run on Hoverboard Technology 
Students and Magnetic Field Architecture company Arx Pax developed the design. 
by Sam Blum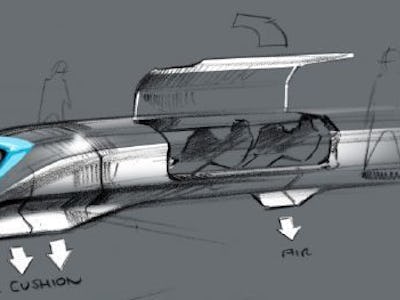 Elon Musk's heralded white paper on Hyperloop looked to low pressure tubes and air compressors to propel futuristic commuter pods across California at unprecedented speeds.
Although the SpaceX CEO's vision prompted a stir in tech and transportation, different groups are approaching SpaceX's Hyperloop design competition not with Musk's suggested method of air compression, but with electromagnetic technology instead.
To produce their preliminary design brief by the competition's deadline of November 13th, a student group at the University of Colorado, Denver enlisted support from Arx Pax, a company that produces electromagnetic engines that enable machinery to hover gently above a conductive surface.
Speaking of the engines the University of Colorado intends to build, George Kent, a senior in the mechanical engineering department, tells Inverse: "They create a magnetic field, which helps levitate the pod, and they can also be used for braking, a little bit of acceleration, and they help control the location of the pod within the tube."
The group, which calls itself Team Hyperlynx, lays bare some of the gritty details behind the pod's levitation capabilities on a Kickstarter page.
This proposed levitation technique however, would hinge on an air-bearing system, which is is different from the type of technology Arx Pax uses.
The University of Colorado group is being consulted by Arx Pax, as are over 100 of the groups involved in the competition. Arx Pax's magnetic field architecture tech might be the most feasible option for some of the groups involved, especially when it comes to testing their prototypes during the contest's competition weekend, which will be held in summer 2016.
Arx Pax is the company behind the wonky, ultraviole Hendoboard, which Tony Hawk once rode:
Kent says that the electromagnetism offered by Arx Pax's engines might present too much of a financial strain, but the group has contingency plans anyway: "We've also got air bearings on back up just in case. Budget-wise, the Arx Pax might not work out because they are kind of expensive," he said.
Arx Pax first announced it would first supply advice to Hyperloop design contestants in October. CEO Greg Henderson said in a news release then that "the applications for MFA are limitless, and we believe it's the most feature-rich technology available."