The Kardashians Are Helping Out With Kanye's 'Swish', and Other Revelations
The long-awaited 'Yeezus' follow-up is out in February.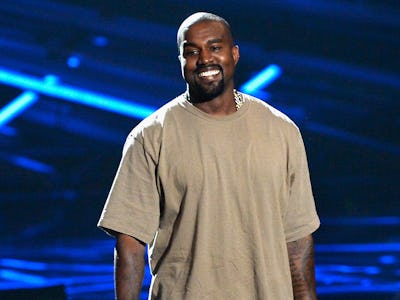 Kevork Djansezian/Getty Images
At Inverse, we've thought about Kanye West's forever upcoming album Swish a lot. Like, a whole lot. First, we thought it would be bad. Then, we just wanted to know where it was. So, we made some pretty bold predictions about it. We decided it'd be the top music narrative to follow this year. Then, he even dropped a new song, "FACTS," which got us wondering if that would be on Swish.
But on January 8, Kanye West saved us from our seemingly endlessly purgatory (and the hell that was that all-caps title), announcing Swish's release date.
Beyond the release date, however, we know nothing. Prior to the announcement, he did share "Real Friends," a very promising new song with Ty Dolla $ign that also contains a snippet of "No More Parties in LA," featuring Kendrick Lamar.
Still, that song is much more likely to be a one-off single, part of a revamped version of "G.O.O.D. Fridays," the 2010 series wherein West dropped a new song each Friday in the lead-up to My Beautiful Dark Twisted Fantasy's release. At least Kim Kardashian West is suggesting that.
So, what the hell is going on with Swish? The short lineup of possible songs on it includes: "Only One" (with Paul McCartney), "FourFiveSeconds" (with Rihanna and McCartney), "All Day" (with McCartney, Theophilus London, and Allan Kingdom), "Wolves" (with Sia and Vic Mensa), and "Fade" (with Ty Dolla $ign and Post Malone). Not that West needs to drop a solo song — he's famously great at getting the most out of collaborators — but that is quite a streak without anything free of features. The next set of artistic partners is unlikely, to say the least, but not wholly unexpected: the Kardashians.
In an interview with Cosmopolitan, Khloé Kardashian reveals that she's been much more involved in Swish than anybody could've guessed. When asked about the possible G.O.O.D. Fridays reboot (prior to his album release date announcement), Khloé responded:
"He has so many songs that we — I act like I'm recording them — that he can't figure out what he wants to put on his album. And they're all genuinely terrific songs. So maybe that's why he's doing that."
When told she's "one of the lucky few who's heard it," she says:
"I know, it's really cool. And he really cares about our opinions, which I find even cooler. Because we're not artists, obviously, but he respects what we say so much. He is so passionate. He's like, every bit the meaning of an artist. He's so into his craft, and just to see him at work and see how much he respects our opinions, all of us sisters, he wants us all in the studio at different times. Thank god we all live a block away from each other."
Khloé's interview is the first Swish word we've gotten since West's release tweet. But, as Kim was a reliable source on "[FACTS](https://www.inverse.com/article/9796-kanye-west-s-song-facts-is-basically-an-adidas-ad" and "Real Friends," it probably just means he's just busy gearing up for another new loose Friday single.
Stylistically, "Real Friends" threw Kanye West devotees — at least this one — for a loop. It takes influences from across his discography to create something new. If Swish were to sound anything like it, we'd be remiss in trying to predicts its sound. With West, the best prediction is no prediction. When he's expected, the results are less rewarding.
Throw anticipation to the wayside. Swish is coming. Let it arrive.