What It's Like to Eat McDonald's Breakfast for Every Meal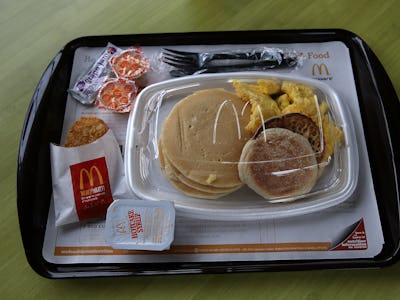 Justin Sullivan/Getty Images
After a lifetime (read: a month) of waiting, it's finally here. How long can you eat McDonald's breakfast?
It's time to seriously consider eating nothing but McDonald's breakfast now that you can. Hash brown snack? Sure. McMuffin dinner? Why not. Twenty-seven hotcakes in a day? That's easy.
The only catch is that not everything will be available all day. The full menu is only available until 10:30 a.m. or so. That means you've got to start with some breakfast exclusives before moving on to the all-day fare.
8:24 a.m.: Time to get something good before work. Go for the Big Breakfast with Hotcakes. That's a biscuit, sausage, a hash brown, scrambled eggs, and three hotcakes, or as it's also known, 1,050 calories, 56 grams of fat, and 2,010 milligrams of sodium (remarkably only 84 percent of your suggested daily intake). The Big Breakfast is essential because you don't want to limit yourself on the most important meal of the day. It's so good it'll make you feel a little less lonely on Christmas morning.
After 10:30 a.m., this is what's available to you. McDonald's advises that "menu items vary by location. Deliciousness doesn't."
1:56 p.m.: Breakfast time is over (but not for you, McDonald's connoisseur!). You might be pretty satisfied with that Big Breakfast, so lunch can be a little lighter. The Sausage Biscuit sounds like a compromise between indulgence and practicality. They're also DJ Khaled's favorite menu item. You're gonna settle for one — but Khaled got three. Wait, he just got six! Gotta get six now. What's another 2,640 calories, 180 grams of fat, and 6,000 milligrams of sodium? I'm on one.
7:20 p.m.: Lunch was a little bigger than you might have expected. You've had a lot of sausage today, so keep it classic with an Egg McMuffin. At just 300 calories, 12 grams of fat, and 730 milligrams of sodium, this thing's a goddamn walk in the park. No reason to not have a Fruit 'N Yogurt Parfait dessert, right? Toss in that 23 grams of sugar, motherfucker!
I'm pretty sure that kid's shirt says "ALL DAY."
Maybe it's not necessarily advisable to take full advantage of the new all-day breakfast at McDonald's. You could also probably also tone down the 4,140 calories that Hypothetical You consumed; it was Khaled's fault with all those Sausage Biscuits. Turning those six into just one puts the daily calorie total at a more understandable 1,940 calories if you eat McDonald's breakfast items at every meal. That's not too different from an Egg McMuffin breakfast, ten-piece Chicken McNuggets lunch, Big Mac dinner, and a large Fries somewhere in there. (That'll bring you to 1,820, and there's definitely a world where that meal plan isn't extraordinary.)
All-day breakfast won't really change much for McDonald's. It does, however, run counter to the company's recent push for "healthier" options, like the Artisan Grilled Chicken Sandwich. The all-day menu doesn't even have better-for-you options like the Egg White Delight McMuffin. All-day breakfast really just satisfies the consumer base, which has been clamoring for it for a very long time.
When it comes to McDonald's, it's never the sensible choice. The restaurant may as well accept it's a guilty pleasure. It's what you want, definitely not what you need.