Will Kanye West's New "FACTS" Song Be on His New Album 'SWISH'?
Kanye's New Years Nike-dissing trap track speaks to his weaknesses, and does not bode well for 'SWISH', which may be coming very soon.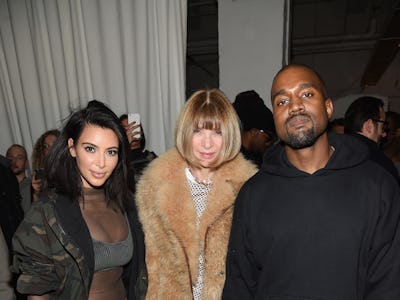 We've gone on record on this site speculating that Kanye West's new album will be a brick, though others among us are definitely more hopeful. But each new Kanye West drop during the past year and change has been various levels of disappointing — experiments that seem unwanted or simply not capitalizing on his strengths.
Perhaps none is as bad as his Nike diss track, "FACTS," which he loosed on New Years like a balldrop Grinch. Yeezy still hates Nike after his partnership with the company failed in late 2013; subsequently, he went to Adidas. Recently — after a successful initial release early last year — he released [another run of Yeezy Boosts with the latter company.
Admittedly, this may not be — let's hope he's wise enough to nix it — included on his upcoming seventh studio album, SWISH. 'Ye's track — mostly produced by Atlanta's producer de jour , Metro Boomin' — has the elemental, spontaneous-feeling of Drake's Meek Mill-taunting "Charged Up" and "Back to Back" from last year. But the effect is a bit weirder, since there's no chance Nike will respond with a track though — unless they pay Drake to.
The one-off quality is enhanced by the fact that this is a interpolation of the hook for Drake and Future's hit "Jumpman" from their collaborative album What a Time to Be Alive. Kanye's song even uses a similar beat by Metro, who also produced "Jumpman." It doesn't seem like a typical choice to foreground what is essentially a beat flip on a studio album, but then again, Kanye has never been one to adhere to rules if he's passionate enough about his vision.
The song also feels of a piece with 'Ye's recent experiments with trap music — most notably, the disappointing "All Day" posse cut from March. After "FACTS," it's become glaringly obvious: 'Ye using skeletal beat architecture of this sort to unsubtly air concerns does not really suit him. "FACTS" is almost funny in its moments of awkward verbosity ("Tell Adidas that we need a million in production/I done told y'all, all I needed was the infrastructure"), and 'Ye's oddball lyrics work best when integrated into some mammoth, expensive-sounding orchestral rap structure — as a modest part of a whole. Kanye is a visionary and a bandleader, and though Yeezus showcased a impulse toward stripping down, it was still stylistically daring, not chasing styles other MCs do better than him.
But while we'd hope Kanye would have the good sense to not put this on the album, one worries about Kim's recent social media posts intersecting with the drop of the song: pictures of Taylor Swift and Obama. Was there a secret listening party? Was it for the song, the album, or something else? Are these people featured on Kanye's album? Is the album called "FACTS"?
We don't have the answers, Sway, but we have a bottom line to offer: If "FACTS" is indicative of the final product Kanye is going to put out as a full length, we're in trouble. If it's on it — and he chose to highlight it as a pre-release drop — then God knows what the rest of this thing is going to sound like. And given that the rollout for SWISH has lasted for over a year, it seems like even Kanye would reckon that the moment is nigh to drop this thing. But man, it's hard not to be worried.