Kanye West's Song 'Facts' Is Basically an Adidas Ad
Kanye West drops Nike diss song 'Facts' via Kim Kardashian's Twitter on New Year's Eve.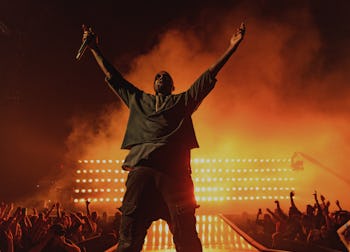 Christopher Polk/Getty Images Entertainment
It's long been clear that Kanye West loves nobody and nothing more than Kanye West. But ever since his marriage to famous bootyful superstar salesperson, Kim Kardashian, and the birth of their kids, it does seem that West has opened his angry heart up to a new crew, or maybe you could refer to them as a new brand. In that same vein, he also committed himself to another label, Adidas, with his Yeezy Boost 350 sneakers, with the most recent "Star Wars" design available for purchase this past Tuesday.
The Kimye power couple has taken cross-pollination Twitter promoting to the next level. He pushed her emoji app, KIMOJI, on his feed and in turn she used the social media format to drop his newest song, "Facts," on New Year's Eve, offering up a few bizarre teasers. But given that they're all business all the time, it's not surprising that this new rap is essentially an ad for West's collabo with Adidas and a Nike diss track.
The song addresses the Nike Jumpman brand used to promote Michael Jordan-related merch. In the intro, West sing-speaks, "Yeezy, Yeezy, Yeezy just jumped over Jumpman." He's clearly taking his cues from a Drake and Future song with that name. West mimics the other tune's rhythm while pushing his own product with lines like: "I ain't dropped the album but the shoes went platinum" and "Tell Adidas that we need a million in production."
The shoes are a big hit, and even crashed websites like Foot Locker and Champs Sports. According to Business Insider, "Adidas racked up 78.8 million likes on its account, @adidasoriginals, likely due to the insane popularity of its Yeezy Boost collaboration with Kanye West." As of NYE, six styles of shoes had been released.
In typical West style, hip-hop's biggest narcissist also used "Facts" to talk about his upcoming presidential run ("2020, I'ma run the whole election, yah!") and to point out what a p.o.s. Dr. Huxtable is ("Do anybody feel bad for Bill Cosby?"). The song closes out by asking the listener to celebrate the life of Chicago DJ Timbuck2, who passed away last week at age 34, so at least there's one heartfelt shout-out in there.
And in return for taking a dump on his dad's classic Nike line, Michael Jordan's son Marcus responded with a couple of simple tweets.
And finally, the "Facts."