Kanye West's 'Star Wars' Yeezy Boost 350s Are Out Today
The last colorway -- Tatooine tan -- of 2015 comes from a Galaxy Far, Far Away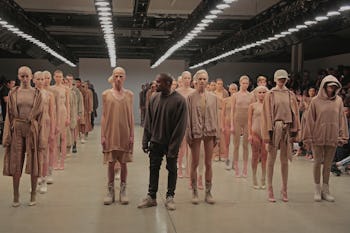 Randy Brooke/Getty Images for Kanye West Yeezy
Kanye West's signature shoes for Adidas, the Yeezy Boosts, are out today in their final release for 2015. The low-top model, the Yeezy Boost 350, was already available in the original Turtle Dove and also in Pirate Black. The latest colorway is Agate Gray/Moonrock/Agate Gray. But the shoes should really be called: The Star Wars Yeezys.
Kanye West has been heavy into earthtones for the better part of three years now. He showed his love for beige and neutral colors with his Yeezy Season fashion lines. More than Star Wars colors, however, West is modeling his silhouettes after the film's wardrobe.
The New York Times recently drew the connection between fashion and Star Wars, and West certainly fits the bill. Everything is loose and drapes, yet does not billow. The Yeezy Boost 350s, too, are very low-key and functional. You could certainly blow up the Death Star wearing a pair of those, and look good doing it.
So is Kanye West taking direct inspiration from George Lucas's iconic space opera? It's certainly possible, as he's a noted fan. In 2008, he tried getting a sketch show on Comedy Central called Alligator Boots. A proposed sketch? Something involving his now-wife Kim Kardashian in a Princess Leia outfit with Kanye as a Stormtrooper.
The actual sketch, or at least the small clip we have from it, does not reveal too much about how Star Wars actually fits in. There's a raunchy puppet named Beary White, though, who hits on Kardashian on West's behalf. It's a great example of West's underrated — and totally unserious — sense of humor.
For the Moonrock Yeezy Boost 350, West is just turning his geekiness into a grownup Star Wars-loving idea. I mean, they're called Moonrock. Moon rocks are in space. Like Star Wars.
West will also have zero trouble selling the shoe. He's already crashed Foot Locker's and Champs Sports's respective websites, and waiting on the Adidas Originals page is like riding an escalator to nowhere. Because he knows they'll sell, regardless of what he makes them look like, West has certainly taken the final release of 2015 as an opportunity to pay homage to the franchise he obviously loves — or at least admires.
The Star Wars Yeezys fit into the scope of 2015 fashion, as well as the recently revived Star Wars love, thanks to the The Force Awakens. It helps that they're an awesome-looking shoe.