Adidas Turns Ocean Plastic Into Sweet Shoes
One man's environmental disaster is another man's shoes.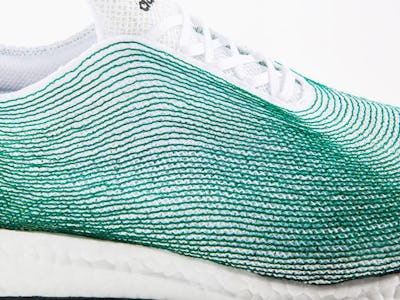 Adidas is joining other brands (G-Star RAW mostly) giving stylish new life to ocean plastic, the buoyant particles that make up the Pacific Garbage Patch and damage marine ecosystems the world over. The new shoes designed by Alexander Taylor, who gave the world the Primeknit, were unveiled last week at an event urging more companies to embrace oceanic recycling. Oh, and they're great looking, providing proof positive that recycled is no longer a euphemism for ugly.
In a sense, the shoes are just an advertisement for the technology that made them. Adidas worked with textiles created by Bionic, a chemistry-driven yarn company that has created recycled fabric four times stronger than its conventional cousins. But the truth is that the shoes themselves do actually matter. In order to get new green textiles to market and create real demand, companies are going to have to use them to create differentiated products. What's cool about the Adidas kicks is that they are that kind of product.
And they look like waves, which is kind of appropriate.
Will the Ocean Plastic x Designers collab trend blow up? Well, the materials in question are growing in popularity, but they aren't particularly well suited to couture. They are strong, stretchy and have an almost neoprene-esque finish. So, don't expect to be wearing an ocean plastic button down, but do expect the Health Goths and athletic leisure movements to start trying to save the whales.