"FACTS" and a History of Bad Kanye West Songs
Not everything can be a banger.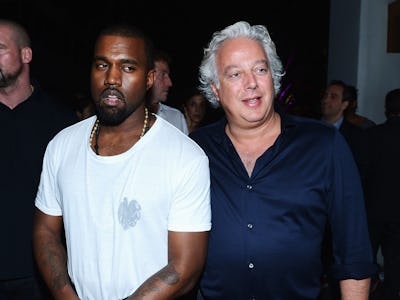 Dimitrios Kambouris/Getty Images for Dom Perignon
Kanye West released the final song of 2015. It is called "FACTS." It is bad.
But even Kanye West, the greatest living rock star (for lack of a better term because it is true) drops bad songs. He's done it before. He's done it a lot.
Not every song can be a hit, nor should they all be. An artist's catalog is made up of hits and misses. The misfires help inform what make the greats so good. "FACTS," for instance, is West trying his damnedest to fit in with the 2015 musical landscape. He literally "jumps over 'Jumpman,'" Drake and Future's b-side hit from What a Time to Be Alive, because he tries to show that he could not only fit in, but also excel at the contemporary rap game.
What else has West tried to prove with failure?
"Barry Bonds"
"Barry Bonds" is quite possibly the most notorious Kanye West misstep (at least prior to "FACTS"). West, however, is not the reason it's so bad. He invited a peak-of-his-powers Lil Wayne to provide a guest verse. Weezy F. manages to never once find the beat and delivers numerous flopping lines. In comparison, West shines with an adequate verse, accomplishing his goal of outperforming the self-proclaimed "Best Rapper Alive."
"Drunk and Hot Girls"
Doubling up on failure, "Barry Bonds" and "Drunk and Hot Girls" are back-to-back on 2007's Graduation. It may actually be the inferior of the two with West being condescending and offbeat on the same track. He even makes drunk noises and raps, "That's how the fuck you sound." The only redemption comes from Mos Def's welcomed sung verse. I guess West just wanted to get a few things off his chest?
"Take One for the Team"
West's My Beautiful Dark Twisted Fantasy prelude series G.O.O.D. Fridays had plenty of attempts that didn't quite hit. Of course, these tracks were omissions from MBDTF for a reason. In his verse, West complains about plastic coaches in other people's homes — something that, obviously, does not concern him. Most egregiously, though, Keri Hilson's hook does not really bring the song together, nor does the boom-bap-esque beat. Or Cyhi the Prynce's presence, at all. G.O.O.D. Friday tracks were just the flotsam as West worked his way toward greatness.
"The One"
Cruel Summer is a G.O.O.D. Music label compilation, but it was under Kanye West's direction. Hits like "Mercy" and "Clique" needed somewhere to go without fitting on a Kanye West album proper. Without the bombast of his own work, track like "The One" fall flat. There are no stakes, and it is quite boring. Without any oomph, lines like "We on a galaxy the haters cannot visit / That's my reality so get off my Scott Disick" do not work. This album was a vehicle to better expose his label roster to the world, which he did via the hits. "The One" is just filler.
"This Ain't a Scene, It's an Arms Race"
We'll use this Fall Out Boy remix as the representative for plenty of bad features. Even big names like West needed to pay the bills earlier in their careers. The exposure doesn't hurt either. At least he rapped, "Now, I don't know what the hell this song is talking 'bout / Do you?" and proceeded to make fun of FOB's outfits. He's having some fun with label-required appearances.
Perhaps a less forgiving reviewer would add more tracks to this short list. 808s & Heartbreak experiments like "RoboCop" and "Pinocchio Story" are essential, but may not click with every Kanye superfan. Yeezus certainly faced its fair share of ridicule, as well.
But beyond these few examples, it's difficult to determine the indisputably bad Kanye West songs. And so it hurts when he drops "FACTS," sending daggers through every fan's heart. But, as history shows, those failures miss the albums more often than not. If Kanye needs to get "FACTS" off his chest to work on the good stuff, so be it.