Drake and Future Get Emotional, Stay Self-Centered on 'What a Time to Be Alive'
A mixture of their new and old selves.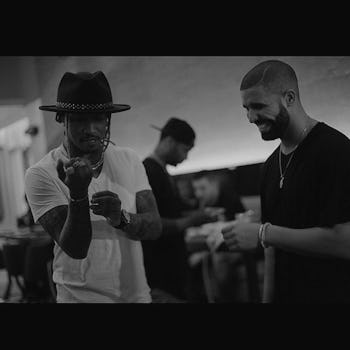 Drake's Instagram (@champagnepapi)
Drake and Future complement each other quite well. Drake is the singer who's improved his rapping throughout his career. Future made street bangers, was quasi-forced into being an Auto-Tuned pop star, and subsequently turned back into an anthem-making monster. When Future needs a hook, he can turn to Drake. When Drake needs some street cred, he's got Future. Prior to Dirty Sprite 2's "Where Ya At," the two had hopped on songs together seven times, dating back to 2011's "Tony Montana (Remix)." Then, last night, they released What a Time to Be Alive — turning what was once a hope and a rumor into the biggest hip-hop collaboration since Kanye West and Jay-Z released Watch the Throne.
Future's typical go-to producers (808 Mafia's Southside, Metro Boomin) handle the bulk of What a Time, giving him immediate dominance over the album's sound. (Metro Boomin is the album's executive producer, as well.) "I'm the Plug," for example, features stuttering snares and the digital sirens that are littered throughout Future's 56 Nights mixtape. As on "Where Ya At," Drake often adjusts his flow to match Future's. What a Time, thus, is more of a Future tape with Drake on it than vice versa.
Drake, however, sounds comfortable sliding into Future's world. He even brings out some of the smoothness of 2012 Pluto-era Future. Both artists have rejected the "sensitive" label that was once stuck to them. If You're Reading This It's Too Late and DS2 found each rapper behaving hedonistically in previously unseen ways, especially Drake. Coming together now, though, they balance each other out to create an album that sounds like "old" Drake and Future as made by "new" Drake and Future. On older releases, they may have looked for love ("Turn on the Lights" for Future, "Marvins Room" for Drake) with a seeming desperation for companionship. Now, their diamonds dance and they shower strippers with money, still desiring affection, but believing they deserve it, even if they don't need it.
Drake's new brand of hard-shelled love-seeking first appeared earlier this summer on "Hotline Bling." On the hit, he sings, "'Cause ever since I left you / Started wearing less and going out more / Glasses of champagne out on the dance floor / Hanging with some girls I've never seen before." He'd always told women they should be with him ("I'm just saying, you could do better"), but the new Drake simply feels superior. Future raps, "I watched my broad give up on me like I'm average / I went back inside the attic, counted up, and started laughing," on "Live from the Gutter." Drake absorbs the vitriol and spits his own, "I haven't even heard from you, not a single word from you / Ungrateful / I'm too good for you, too good for you," on "Diamonds Dancing." Neither are sitting back and completely focusing on just themselves — like Future making a gun-toting hit on "Stick Talk." They're firmly outward-looking on What a Time, but with the introverted perspective, which they've now honed.
The bombast can backfire when Drake isn't quite sure of himself. "Plastic Bag" becomes a bit awkward when Drake gets instructive on a stripper. His insecurity — the feeling that he needs to justify being at the strip club — comes through further when he raps, "Oh yeah, Magic City on a Monday / Esco treat that shit like church on Sunday." If DJ Esco's doing it, of course Drake can, too! Future doesn't second-guess his actions, sounding like his 2015 self at a strip club. Drake, meanwhile, reverts to 2011 Take Care mode, stuck between doing what he wants and trying to pretend he's a good guy about it.
What a Time succeeds when Future and Drake pay attention to themselves and just rap. The Metro Boomin-produced "Big Rings" — on which Drake boasts "What a time to be alive!" — is likely the album's best bet for radio airplay. It's a big beat and Drake just wants a lot of "nice things" while Future gets high. "Change Locations" is like a slower version of "Big Rings," on which Drake and his friends "have money to spend." Drake does start to make plans to meet up with someone when her shift is over, but he quickly starts talking up his crew. There isn't much internal conflict. Although contemplative on their own, the two are really at their best together when they throw caution to the wind.