Forget the Drake and Meek Mill Beef, Listen to 'Hotline Bling'
Beef is boring and Drake just dropped a banger make the right decision.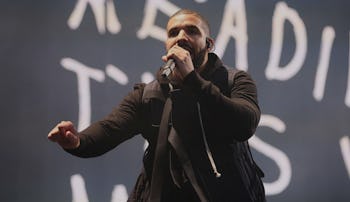 Tim P. Whitby, Getty Images
It is August 6, and we are still reeling from the aftermath of the Drake and Meek Mill beef. It's been a long couple of decades since this arduous war began, but the real tragedy is that one of Drake's best recent songs "Hotline Bling" remains overlooked.
Drake attempts to act tough, probably too often, which thankfully he lets down on "Hotline Bling." The song that falls into the same "Hold On, We're Going Home" and "Come Thru" of Drake attempting to be his sweetest while falling into his own usual narcissism and selfishness. That could be a critique, but isn't such coldness part of what people love about the Canadian. A willingness to get vulnerable but always holding something back because not everyone gets access to those 1-800-HOTLINEBLING digits.