Drake and Future Mixtape Real Thing?
Inverse investigates whether this rumored Drake and Future mixtape is real or fake.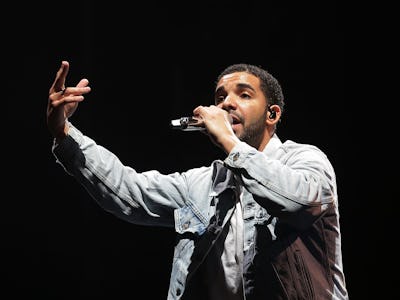 Mark Metcalfe, Getty Images 
Last week we reported on the rumored tape that Drake and Future were supposed to drop. A week later since the initial tweets from DJs and hip-hop personalities implied that the tape was about to drop any moment… nothing. It's been a lot of any moments, but still nothing's arrived to fans' ears.
Earlier in the week there was a track listing that was "leaked," but there was nothing to confirm that this track listing wasn't anything but an elaborate fake.
Then a couple days ago there was a site with a countdown clock suddenly arrived to further spark rumors and hopes. But the Fader reported that after reaching out to both artists respective labels, it appears that neither are claiming responsibility for the site.
Still, after hopping on Instagram and seeing Drake drop subtle hints like this with well-placed clock emojis, it's hard to believe that there isn't something brewing between OVO and FBG.
The rumor was floated by a few music industry members, but so far with little words from Drake or Future to confirm that this mixtape even exists, it's hard to wait on baited breath that the tape is about to drop. Still, Drake and Future have a long history of working together and it's hard to doubt them only for them to say…
…when it finally does drop.