Do We Need Drake's 'Views from the 6'?
A 2015 defined by spontaneity doesn't call for a proper studio album.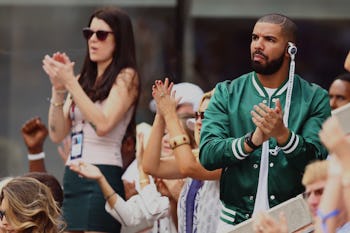 Maddie Meyer/Getty Images
Serena Williams's stunning loss at the U.S. Open aside, Drake has had a hell of a summer.
There was the Meek Mill beef, the debut of "OVO Sound Radio" on Apple Music's Beats 1, his Dirty Sprite 2 feature with Future, the potential Song of the Summer, and his general "putting the 6 on [his] shooouuulders!" He kept things hot (up in the 6) all without any mention of or much interest in his supposedly forthcoming Views from the 6 — the official follow-up to 2013's Nothing Was the Same.
Drake, of course, already released an album this year — If You're Reading This It's Too Late — but he's called that a "retail mixtape," leaving the door open for Views from the 6. But do we really need Views from the 6 at this point? Drake has found continued success in 2015 through spontaneity. The retail mixtape came (relatively) out of nowhere; the various singles have premiered on "OVO Sound Radio" without fanfare; and even the Meek beef happened organically. Releasing a studio album now could threaten to kill Drizzy's momentum.
Drake's been notably pensive across his three albums (2010's Thank Me Later, 2011's Take Care, and 2013's NWTS). He shot for the moon on his debut, which included radio hits "Over" and "Find Your Love." Despite the Lil Wayne cosign, some rap listeners didn't take him seriously — he had to at least try to prove the industry gatekeepers wrong. So on Take Care, he got more serious ("Marvins Room"), kept the pop appeal ("Take Care"), fell in love at the strip club ("The Real Her"), and rapped his ass off ("Lord Knows"). NWTS was his realization that his particular brand of emotive rap wasn't permanent, so he sent off the old Drake in style. "Started from the Bottom" recreated his origin story; "The Language" made him more of a "player" than a heartthrob; and "Worst Behavior" took no prisoners. In comparison, If You're Reading This had no calculated M.O. except to say, "I'm still here, and I'm at the top and pissed off."
There's no real way to know how long Drake's been recording Views, or if he's already scrapped older material once slated for release. Chances are, though, that he's working on something with some semblance of a narrative. Currently, Drake's narrative is that he doesn't need one. He's reacting to whatever gets thrown at him. If You're Reading This doesn't have tremendous pacing because it gets the hits out of the way early. It's got a lot of energy. It's a bold statement, but not a truly complete one.
If and when Views does arrive, it's likely to be a good record, given Drake's nearly flawless track record. It just might not feel right. Sitting atop a lonely throne is fine and enjoyable when you don't know quite yet what to do with the fame and power. Too much rumination, however, could lead to petty results. Eventually, stars can stop dissing the haters because they've actually overcome them. Drake may not feel comfortable as the top rapper in the game, and the next record is likely to reflect that. He's riding high now, though, and any type of return to Earth — whether with a subpar album or one that's too much like the old him — could kill his speed. Scrap the title and delay the release, Drake. You've already won 2015.