Drake, Alessia Cara, the Weeknd, and the 6: How Did Toronto Become the Hottest Scene In Music?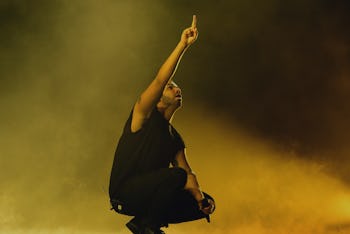 Getty Images
This week marks the release of highly anticipated albums from the Weeknd and Alessia Cara. They're just two of many artists hailing from Toronto, a city that, over the past five years, has come to dominate the music world with its dark, hazy take on R&B and hip hop. The emergence of the 6 — shorthand for 416 and 647, Toronto's original area codes — might've taken some people by surprise, but to others it's been a long time coming.
The city's sound has been incubating for years, but the industry hasn't been ready for it until now. "Toronto music has been hot for a long time," says Rawiya Kameir, senior writer at The Fader and Toronto native. "But I think in general, hip hop and R&B and 'black music' is becoming accepted. It's been pop for a long time, but it's become mainstream pop culture in a way it hasn't been, probably ever."
Toronto's sound is the unique product of its immigrant-dense, Caribbean-leaning culture and its cold, Canadian nights. When it's winter eight months of the year, most of your time is spent indoors, whether in clubs, at crowded afterparties, or in cars, driving home at 5 a.m. in Toronto's blue half-light. Everything is slow, dark, and sexy — and that vibe suffuses every track the city drops, songs like Majid Jordan's pulsing "My Love," the nocturnal "Drama" by Roy Wood$, and Ramriddlz's wavy, dancehall-infused "Sweeterman."
The roots of that complex, culture-crossing sound run deep. Any kid that grew up in Toronto in the early 2000s remembers artists like Choclair, Kardinal Offishall, and k-os, musicians that embraced the city's early rap culture. At suburban school dances and smoke-filled basement jams — the same ones Alessia Cara sings about on "Here" — reggae and soca were standard fare. And for many of us, R&B and hip hop megastation Flow 93.5 single-handedly provided the soundtrack to cold nights spent driving down the 401.
And then there's the accent, a strange mash-up of Canada's singsong inflection and Jamaican patois. Everyone was confused after watching Drake's 14-minute video for "Jungle." He'd dropped his fake Southern drawl for one that was, to most people, indiscernible. But for natives like myself and Kameir, it just sounded like home. "If people hadn't pointed it out to me, I wouldn't have even noticed it," she says. "That's just how my friends talk."
Julian Nieva of Kid., the Toronto-based design studio behind the video for SAFE's "Feel" and the God Bless Toronto project, agrees. "Calling somebody a 'sweeter man' or a 'ting' is a ting here. I'm Asian and I drop that type of language every single day." That cross-cultural adoption of West Indian culture has always been a given in Toronto life, regardless of a person's race, but natives only recently gained the confidence to bring it to the global stage.
That surge in confidence can be chalked up to the 6 God himself, Drake. Few would argue against the fact that Drake convinced the world Toronto was cool, paving the way for artists to embrace its unique sound and rep their city. Between The Weeknd writing "Queen Street anthems" and SAFE smoking up outside Rabba's Fine Foods, the sense of civic pride is clear.
It's a huge shift in perspective, especially for a city that was once in danger of internalizing its reputation as Canada's New York. "Our identity is becoming a little more obvious to outsiders and therefore to ourselves," says Kameir. "There's a collective confidence that you can feel that we never had before, and I don't think Toronto's trying to be anything anymore."
It used to be notoriously difficult to succeed as an artist in the Screwface Capital, where unnecessary beef would pit crews of artists against each other. But now, "people aren't trying to tear each other down anymore," says Nieva. Even with crews as distinct as OVO and The Weeknd's XO, Toronto artists are supporting each other like never before, showing up en masse to events like OVOFest and even Ramriddlz's recent sold-out show at Adelaide Hall.
When listening to artists from the 6, you'll hear people say "You won't get it if you're not from Toronto". While the city's artists aren't out to alienate anyone, they're also not apologizing for the sound they've worked years to create. It's that outlook that's brought Drake and the Weekend to the global stage, and it's the same one letting newcomers like Jazz Cartier, Partynextdoor, and Derek Wise follow in their footsteps.
There's a distinctly edgier, un-Canadian-yet-still-proudly-Canadian vibe in the New Toronto. If you take a walk down Queen Street in the city's downtown core, you'll see Blue Jays and Raptors hats, OVO and Legends League gear, and shirts emblazoned with three words that sum up the city's new attitude perfectly: Toronto vs. Everybody.