Drake Makes Apple Music Essential
With exclusive content, Beats 1 is can't-miss listening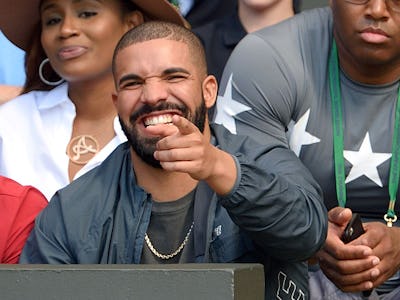 Karwai Tang via Getty Images
The second installment of "OVO Sound Radio," Drake's program on Beats 1, available exclusively on Apple Music, aired this past Saturday. During the show, Drake premiered three new tracks in succession: "Charged Up"; a remix of D.R.A.M.'s "Cha Cha,"; and "Right Hand." "Charged Up" is Drake's diss track to Meek Mill, who'd recently called out Drake for using a ghostwriter on "R.I.C.O." from Meek's Dreams Worth More Than Money. Drake played the diss, like, 90 times in a row.
More important than Drake taking care of business, however, is that he did it on Beats 1 Radio. Whether it's Run the Jewels offering up "Meowrly" on "WRTJ" or Dr. Dre weaving together the old and the new for great mixes on "The Pharmacy," Apple has figured out very quickly how to make its new streaming service fulfill high expectations. With high-profile DJs, listeners almost feel obligated to tune in, just in case something new drops. Radio rips come, but sometimes hours later, and there's nothing like being the friend who can be the first to declare whether a new track is "flames or nah" on your Twitter feed.
The early indication is that Beats 1 has changed the face of Internet radio. Pandora is still there, if you want a station that introduces you to new music based on what you already like. Beats 1, though, introduces you to music that someone cooler than you likes, in addition to the exclusives. With help from music's biggest names, Beats 1 is making Internet radio something more than an accessory to streaming — it's something you need.