Google's First Foldable Phone Is Impressive and Very Expensive
But if you pre-order the Pixel Fold you get a free Pixel Watch!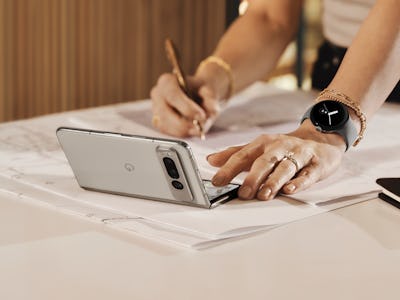 Google
Whether from numerous leaks or Google's own video tweet last week, we know you've already seen the Pixel Fold. And today, after its official debut at Google I/O 2023, we know all the details about the foldable phone, including its whopping $1,799 price.
Here in America, the Pixel Fold is the first real foldable competitor to Samsung's Galaxy Z Fold 4, a device that's on its fifth generation later this year. Overseas, especially in Asia, it's just another foldable phone that opens up into a tablet-sized display.
The Pixel Fold, available in two colors (Obsidian and Porcelain), has a slightly squatter form factor that's seemingly inspired by the Oppo Find N series. The dimensions, as my colleague Ian Carlos Campbell has said, are the "correct" size and shape for a foldable phone. I have not had hands-on time with the Pixel Fold, but looking at measurements it does appear to be remarkably similar to the proportions of the Find N2.
Pixel Fold Tech Specs
I've said for years now that tech specs on phones don't matter as much as they used to. So long as the hardware quality fits the price; the software is responsive and not filled with bloatware; and the battery life and cameras are great. Foldables are a different story; you need to know the dimensions since they're often twice as thick as a regular phone or have skinnier-than-normal cover displays.
So here are all the Pixel Fold specs that matter:
Dimensions: 5.5 x 3.1 x 0.5 inches (folded) and 5.5 x 6.2 x 0.2 inches (unfolded)
Weight: 10 ounces (283 grams)
External "cover" display: 5.8-inch 120Hz OLED (2,092 x 1,080 FHD+ resolution with 17.4:9 aspect ratio) at 408 ppi / up to 1,550 nits of peak brightness
Internal "folding" display: 7.6-inch 120Hz OLED (2,208 x 1,840 resolution with 6:5 aspect ratio) at 380 ppi / up to 1,450 nits of peak brightness
Chip: Google Tensor G2
RAM + storage: 12GB LPDDR5 RAM + 256 or 512GB UFS 3.1 storage
Battery life: 4,727 mAh + 30W fast charging + Qi wireless charging
Rear cameras: 48-megapixel (f/1.7) main with 82-degree FOV + 10.8-megapixel ultrawide with 121.1-degree FOV + 10.8-megapixel (f/3.05) 5x optical zoom telephoto with 21.9-degree FOV
Front camera: 9.5-megapixel (f/2.2) with 84-degree FOV
Inner camera: 8-megapixel (f/2.0) with 84-degree FOV
Speakers: Supports spatial audio
Wireless: 5G (mmWave + Sub-6GHz), Wi-Fi 6E, and Bluetooth 5.2
Biometrics: Fingerprint reader (in power button) and Face Unlock
Overall, these are pretty good solid specs for Google's first foldable phone. You get OLED on both displays, Google's latest Tensor 2 chip that's in the newly announced Pixel 7a (and Pixel 7 and 7 Pro), tons of RAM and storage, and (hopefully) cameras that will be on par with non-foldable Pixels.
Google is touting the Pixel Fold as the "thinnest foldable" but that comes with a catch: that's true only in countries where the Pixel Fold will be sold (U.S., U.K., Germany, and Japan) and that doesn't count the camera bump.
How Durable is the Pixel Fold?
That's hard to say without spending time with the Fold. According to Google, the Pixel Fold's hinge uses a "mirror polished, multi-alloy steel construction" with a "custom dual-axis, quad-cam synchronized mechanism" that offers "fluid friction across the full 180° range of motion to securely support different postures." A lot of fancy words; I'll have to try the Pixel Fold in person.
Otherwise, the Pixel Fold seems to be fairly strong. The body is aluminum and the rear is Corning Gorilla Glass Victus. The cover screen is also made of Gorilla Glass Victus. The entire phone is IPX8 water-resistant.
In a press briefing, Google said the Pixel Fold was tested to last up to 200,000 folds, which is the same guarantee that Samsung makes for its Z Flip 4 and Z Fold 4.
Android Optimized for the Foldable Screen
As always, it's not the hardware, but the software that will make or break the Pixel Fold. Are there compelling use cases that will make the Pixel Fold more appealing compared to a traditional phone slab? Maybe!
Google highlighted a few ways it's optimized Android for the Pixel Fold's larger folding screen. There's a split-screen mode with a taskbar; some apps allow you to drag and drop files within them; there's a tabletop mode that can display a video on the top half (above the crease) and additional info on the bottom (below the crease). Similarly, the camera app can be put into a tabletop mode for selfies. Google also demoed a "dual screen interpreter mode" where two users can hold a Pixel Fold and see Google Translate transcriptions on the cover and folding display.
If these features sound familiar, that's because they are. Samsung has had similar ones on its Z Fold phones for years. The real work will come from third-party developers. As I complained about in my OnePlus Pad review, there aren't many tablet-optimized apps in the Play Store. It's possible the Pixel Fold and Pixel Tablet are catalysts to nudge developers into making tablet versions of their apps. Google says the Pixel Fold and Pixel Tablet will support "over 50 optimized apps" and there is "still work to be done" to get developers on board.
2023 Pixel device lineup
The Pixel Fold is Google's most expensive Pixel device yet and the same price as Samsung's Galaxy Z Fold 4. It's also more than the most expensive iPhone 14 Pro Max ($1,599).
Pixel Fold ($1,799)
Pixel Tablet ($499)
Pixel 6a ($399)
Pixel 7a ($499)
Pixel 7 ($599)
Pixel 7 Pro ($599)
Pixel 8 (TBA)
Pixel 8 Pro (TBA)
Pixel Watch ($299)
Launch Date Details
Pre-orders for the Pixel Fold start today, May 10. However, the foldable phone will not be arriving until June. To sweeten the deal and make the $1,799 price tag less painful on your wallet, Google is giving everyone who pre-orders the Pixel Fold a free Pixel Watch. That's one way to attract buyers!