A Major Pixel Fold Leak Leaves Nothing to the Imagination
What else is there to know about Google's foldable?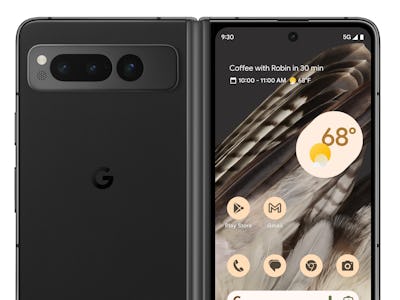 Screenshots by Evan Blass
We already have a pretty good idea of what hardware Google plans on announcing at I/O 2023, and the Pixel Fold is arguably the most exciting piece. The company has long supported foldables like Samsung's Galaxy Z Fold 4, but has yet to offer its own take on the form factor.
Google's event is less than two weeks away at this point, and well, the foldable has thoroughly leaked. Thanks to a video shared last week and multiple (what appear to be) official renders of the device itself, we know exactly what Google plans on showing off at its I/O. The Pixel Fold isn't reinventing the wheel, but it sure seems like a Google phone.
Bezels and Hinges
Videos of the Pixel Fold were first leaked by Kuba Wojciechowski on April 21. The screen of the foldable was blurred out, but you can get the gist of what the Pixel Fold has going for it. The device is of the short and squat variety like the Oppo Find N, with a noticeable amount of bezel around the rumored 7.6-inch inside display, and a nearly gapless hinge when the phone is folded closed.
Prolific leaker Evan Blass (@evleaks) shared what would be the final nail in the coffin of Google's secrecy a few days later on the weekend of April 28. The front display of the device — rumored to be around 5.8 inches, per CNBC — looks like a Pixel phone. The back of the device has Google's telltale "camera bar."
Inside, perhaps controversially, Google has foregone a hole-punch or under-display selfie camera in favor of a thick bezel to hide its front-facing camera. The move could be an effort to cut costs or fit in a better sensor, but either way, it means the interior display of the Pixel Fold is a little bit closer to a rectangle than its competitors.
Final details of the Pixel Fold need to be hashed out, like how durable its hinge is, which of Google's custom Tensor chips it's using, whether or not it can be used with a stylus like Samsung's foldables, and basically all of the other technical specs. But now we know what it looks and frankly, it seems like a compelling alternative to what's available globally today.