There Is a Right Way to Build a Foldable Phone, Actually
If 2023 offers anything, it might just be a consensus on what foldables should look like and how they should feel to use.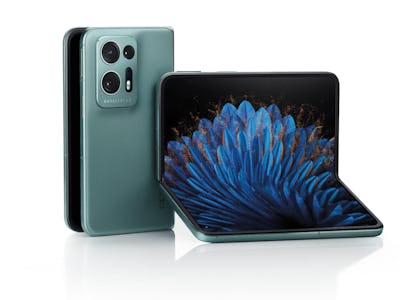 Oppo
Over four years into foldable phones being products people can buy, some consensus has been reached on what they should do. Offering a more convenient size, features that rely on a hinge to prop up your phone, and the novelty of having a daily driver that doesn't look like anyone else's are reasonable things to have on your bingo card.
In 2023, that consensus has begun to crystalize into what could be the perfect version of the form factor: The tablet that folds into a phone. Oppo's Find N and Find N2 strike a great balance between increased useability and something that's still comfortable to use in one hand. Based on reporting from last year, Google's latest and most developed foldable project could follow a similar path as Oppo's first foldable, with a squatter and wider body and, reportedly, a larger battery. The "Pixel Fold" could look like what's fast becoming the "right" kind of foldable, the Oppo Find N2.
Let me explain:
The Two Types
If it feels over-eager to already come down hard in favor of one specific way of doing a folding phone, consider that the smartphone market is far more mature than it was when the original iPhone put a dent in the universe in 2007. We might have gotten an oddball outlier like the HTC Evo 3D years later in 2011, but the world is different now. Smartphones are more expensive, more people own them, and the market is less competitive even if the competition is hotter between the large corporations that are left.
Samsung set the tone with its Galaxy Z Fold 2 and Galaxy Z Flip 5G, and everyone has more or less followed. It makes sense to sell a flip phone with modern smartphone conveniences just a fold away like the Oppo Find N2 Flip, or a tablet that shrinks down like the Galaxy Z Fold 4. Where Oppo (and theoretically Google) make important tweaks is the aspect ratio and general size of their phones.
The Oppo Find N I reviewed is both shorter and wider than any Galaxy Z Fold Samsung has sold. It means the unfolded version of the phone offers less vertical screen real estate but something much more like the rectangular shape traditional tablets come in. The Galaxy Z Fold design hews closer to Samsung's other phones when closed, but it's almost a perfect square when opened and far too narrow on either side to be comfortably used folded open like a laptop. Plus, if Google sells a Pixel foldable with a similar form factor to the Oppo Find N2 (5.54-inch exterior screen, 7.1-inch interior screen), it'll have a much easier time taking advantage of the work it's already put into updating its Android apps to work better on tablets. That'll be true of all foldables.
What should you get out of a folding screen?
When it comes down to it, the question that's yet to be definitively answered is what we should get out of a device with a screen that folds. As it stands, the "modernized" flip phone of the Samsung Galaxy Z Flip is far more popular than any alternative, but speaking to people who've spent significant time with a folding phone, it seems like the answer lies with a design that enables more functionality rather than just making existing functionality more compact.
For example, reconsiderations of Microsoft's Surface Duo 2 — an existing product that gets pretty close to my platonic foldable design — praise how it enables you to multitask. One of the most compelling use cases for the Galaxy Z Fold 4 is just being able to pull up a web browser and email app side-by-side (this is how I spend most of my time on my iPad, too). A device that gets us closer to a tablet experience in a more flexible body should be what foldable phones are bringing to the table. And I'd argue the Oppo Find N2 gets the closest. The only problem is it's not available in the U.S., which leaves the field wide open for someone to make a case for a squatter and chunkier foldable in North America.