Google Confirms Pixel Fold Is Real and Will Be Announced on May 10
The company shared the first (official) footage of its foldable on Star Wars Day.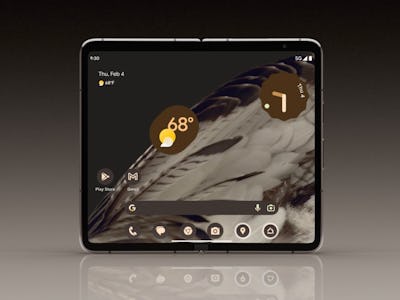 Google
Well, I guess those Pixel leaks happened for a reason. The Pixel Fold is a real product, and Google says it will have more to share about its first foldable on May 10 at the I/O 2023 conference. The company announced the news via a video shared on social media and the official Google Store, showing off a folding phone fitting of the "Pixel Fold" name
It's Real
Google's foldable has been rumored to be in the works for a while but only became a serious known quantity in the last few years as renders based on leaked specs were shared, and then eventually, actual footage of the phone in action was leaked online. We've said it once, and we'll say it again: Google is carrying over all of the hallmarks of its Pixel design language to the Fold based on this video, including multiple cameras housed in a "camera bar" and the polished rounded bezels and corners it rolled out with the Pixel 6 Pro.
We'll have to wait until the company's I/O keynote to see how it plans to differentiate the Pixel Fold from its existing Pixels and competitors like the Galaxy Z Fold 4, but releasing the device fits with the company's current push to get developers building tablet-friendly apps. Perfect timing for the launch of the Pixel Tablet, which is also expected to be launched on May 10.
Endless Teases
To combat it leaks, Google's been more aggressive at teasing its hardware, announcing it well before its launch date and then trickling out information over time. It announced the Pixel 7, 7 Pro, and Pixel Tablet with a similar strategy and is now trying the same thing with the Pixel Fold. I'm not sure how much it actually builds excitement for these new devices, but it is refreshingly direct.
Questions about the Pixel Fold remain, like how durable its hinge is, which of Google's custom Tensor chips it's using, whether it can be used with a stylus like Samsung's foldables, and most of its technical specs. In any case, those answers are imminent. Here's to hoping there are still a few surprises in store for the Pixel Fold next week.