The 7 Best Cybertruck Accessories and Mods
These campers, wraps, and mods will make your Cybertruck stand out even more.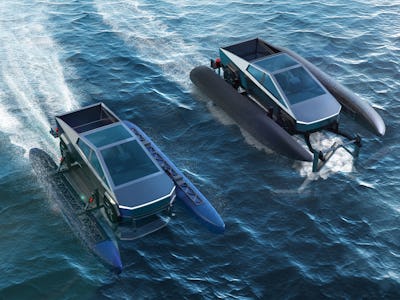 Cybercat
We may receive a portion of sales if you purchase a product through a link in this article.
We may be finally getting close to customer deliveries for the long-awaited Tesla Cybertruck that's gone through years of delays. And even though the striking EV hasn't made it to the market yet, the hype train has already generated some absurd accessories and mods.
When the Cybertruck does release, the stock version will already have a ton of functionality with up to 3,500 lbs of payload capacity, tons of storage space, and an adjustable air suspension. But what if you wanted to start your #Vanlife adventure or sail the high seas in your Cybertruck? Here are some of the wildest accessories we found for the Tesla Cybertruck that make it more than just an electric pickup.
SPACECAMPERS THE WEDGE
This collapsible extension from SpaceCampers sits at the back of the Cybertruck and can be configured as a bedroom, mobile workstation, kitchen, or bathroom. Since The Wedge goes up to 8 feet high, there's plenty of standing room to make it feel like a real living space. There are a ton of ports too, like four 110V outlets, USB ports, and 12V/24V connections.
CYBERLANDR
The Cyberlandr mod shares a couple of similarities with SpaceCampers' offering, like its collapsibility and all-in-one functionality. The Cyberlandr is also a living room, bedroom, bathroom, and kitchen wrapped in one, but includes premium features to make it feel more like a home. There will be retractable solar panels, heated floors, a smart TV, and a surround-sound audio system.
Form Camper
If you thought $55,000 was a lot for a camper mod, Form Camper's $69,500 price tag may make you consider building your own for that much money. The similarly collapsible design features a carbon fiber body that's much more spacious than the rest. The Form Camper is even completely detachable from the Cybertruck. Perhaps the best feature is that it's compatible with any truck bed, not just the Cybertruck.
Cybercat
Sure, the Cybertruck may be able to handle some off-roading but it won't be able to sail across a lake. If you're in the market for an amphibious Cybertruck, the Cybercat is likely the only solution out there. The Cybercat may feel unnecessary for most drivers, but the company doubles down and says you can even make an island with four floating Cybercats.
CYBERQUAD FOR KIDS
While most of these accessories and add-ons are from third-party manufacturers, the Cyberquad for Kids is an all-terrain vehicle that's officially from Tesla. You may recall that the Cyberquad for Kids was pulled in the U.S. for not meeting federal safety standards, but China has gladly taken up the mantle for this potentially-dangerous ATV for kids. Tesla is also working on a real Cyberquad ATV as an accessory to the Cybertruck, though.
Cybertruck cat nest
Tesla is no stranger to selling Tesla-branded items that have no relation to EVs. The Cybertruck cat bed that's being sold on Tesla China's website is the latest. It's essentially a cardboard box with Cybertruck-esque angles meant for cats to nestle into. It doesn't look particularly comfortable, but at least it's affordable.
DBRAND CYBERTRUCK WRAP
With most of these mods being fairly outlandish, it's weird to say that dbrand may have the most reasonable product among them. When Tesla announced the Cybertruck back in 2019, dbrand quickly capitalized on the news by offering vinyl wrap options in some truly bizarre colorways. Depending on when the Cybertruck releases, dbrand could be ready to make your Cybertruck stand out even more.