This Retro-Looking Electric Pickup Could Be a Serious Rivian Challenger
Alpha's electric light-duty pickup, the Wolf, is just a prototype at the moment.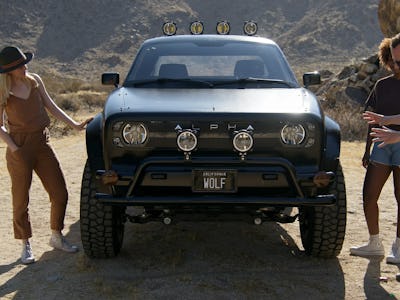 Alpha
Alpha Motor Corporation may not be as well known as other EV startups like Rivian or Fisker, but it has been busy working on a lots of upcoming cars. Most of Alpha's cars are nothing more than renders at this point, but the startup finally showed off a working prototype of its Wolf model, an electric light-duty pickup truck.
Alpha says its Wolf EV will be a pickup truck that's as capable in city streets as it would be offroading. Generic video aside, the Wolf looks promising in terms of specs and could prove to be a real challenger against the likes of Ford's F-150 Lightning or Rivian R1T. Still, Alpha remains an unproven EV startup that will be facing off against much more established brands.
PACK OF WOLVES
The Wolf will come in two drivetrain configurations, including a single-motor RWD and a dual-motor AWD. Alpha says the electric pickup will get an estimated top speed of 125 mph and will be able to pump out 285 horsepower thanks to a 212 kW base motor output.
The Wolf will accelerate from 0 to 60 mph in 6.2 seconds, while still having a towing capacity of 3,000 lbs. The base-level Wolf will get up to 275 miles of range on a single charge, but the Superwolf model is expected to get more than 300 miles. Alpha didn't reveal exact charging times, only noting that it would take less than an hour to fully charge the trucks on a DC fast charger.
While the interior of the base Wolf model can fit two passengers, the Wolf+ and the Superwolf have additional seating in the cab. Alpha also claims that the cabin insulation will minimize external noise and should provide a quiet atmosphere for passengers.
MASS PRODUCTION IN MIND
Alpha says it plans to make more test vehicles while gearing up for mass production in the U.S. down the line. From Alpha's website, the Wolf will start at $36,000, while the Wolf+ will start at $46,000, and the most expensive Superwolf will start at $56,000. Alpha says it can offer more competitive pricing thanks to its "direct-to-consumer" sales model, which should undercut Ford and Rivian's electric truck offerings.
Preorders for the Wolf have been open for a while, but we still don't have a solid release date for the truck yet. As with any EV startup, it's important to have a healthy dose of skepticism, but the Wolf could be Alpha's ticket to relevance in the market.