Fisker's Sporty 600-Mile EV Looks Just Like an Electric Hypercar
Fisker's CEO teased an image of the Ronin on Instagram.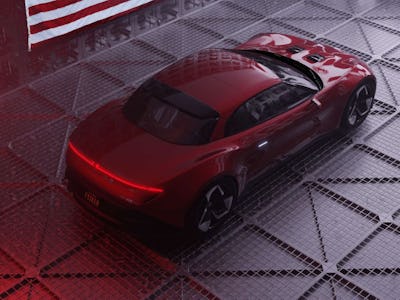 Henrik Fisker / Instagram
Fisker's upcoming sports car with a 600-mile range would be more than double what the average EV offers, and to drum up some hype, the company revealed a clear look at its four-door convertible EV called the Ronin. The EV startup previously announced the Ronin in 2022, teasing similar long-range estimates and a 0 to 60 mph in around two seconds.
A year later, we still don't have any confirmed specs about Fisker's sporty EV, but it has been busy releasing its Ocean SUV that earned an EPA-estimated range of 360 miles. For the Ronin, anything close to 600 miles would make it the longest-range EV on the market, beating out Lucid's record of 520 miles with its Air Dream Edition R.
UNCONFIRMED RANGE
Fisker's CEO, Henrik Fisker, says in an Instagram post that the Ronin will be a five-seater grand touring EV with an anticipated range of 600 miles. The anticipated range is likely optimistic, so we won't actually know for sure until the official numbers from either the WLTP or the EPA.
Fisker called the upcoming EV "super fast" and the "ultimate long-distance Grand Touring car," without revealing any actual specs. We still don't have any pricing details either, but Fisker previously said that it would fall around the $200,000 mark. While that's a lot of money to invest in a brand that just started shipping out its first EVs a few months ago, we can't forget that the Ronin will be a convertible EV in a market with very few comparable options.
UPCOMING REVEAL
Fisker says in his Instagram post that the company will reveal the Ronin on August 3, while also opening reservations around the same time. Beyond the Ronin, Fisker is working on its more affordable Pear model that will start below $30,000 and have a max range of 300 miles.
The Pear is expected to start deliveries in 2024, while the Ronin was previously slated to start production in late 2024. If you don't want to wait that long, Fisker's long-range SUV is already starting deliveries in the U.S.