How Ford's Huge F-150 Lightning Discount Could Stoke an Electric Truck Price War
Ford's price cuts of up to 17 percent should elicit a response from competitors like Tesla or Rivian.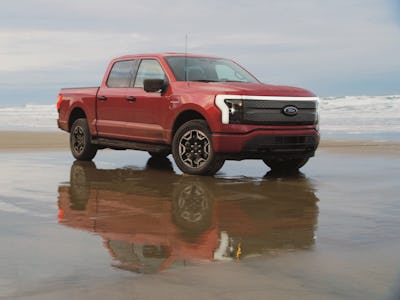 Ford
Several months ago, Ford halted production on its F-150 Lightning electric pickup trucks due to battery issues. While the American EV maker has bounced back on production in March, that hasn't stopped Ford from drastically lowering the pricing of its F-150 Lightning across all trims.
Recent price cuts go as deep as 17 percent with its entry-level model, the F-150 Lightning Pro. That's a major discount bound to have some recent customers feeling buyer's remorse. And Ford's decision to cut prices isn't happening in a vacuum — as a result, the entry point for all companies making electric pickup trucks could feel the heat. Here's everything you need to know about Ford's steep price cuts.
HOW MUCH DOES THE F-150 LIGHTNING COST NOW?
Ford dropped its most affordable trim, the Pro model, from $59,974 to $49,995. That nearly $10,000 discount represents around a 17 percent price drop. Each of Ford's seven F-150 Lightning models now has lower prices, including its most expensive Platinum Extended Range model that went from $98,074 to $91,995. The price cut also makes the Lariat Extended Range model eligible for EV tax credits, since it now starts at $77,495 instead of $85,974.
Of course, that starting price of $49,995 is still higher than when Ford originally debuted its electric pickup truck in April 2022 for $39,974. Since its release, the starting price tag ballooned up to nearly $60,000 after four price hikes.
WHY DID FORD REDUCE PRICES BY SO MUCH?
Ford attributes its latest price cuts to a combination of upgrades to its Michigan plant, decreasing raw material costs for batteries, and better scaling of production costs. All of that translates to lower F-150 Lightning prices across the board for customers.
On the other side, the growing inventory of EVs has led to models stagnating in dealership lots. At the end of June, EVs closed at a 103-day supply, according to Cox Automotive's new vehicle inventory report. More specifically, the Ford F-150 Lightning ended the month with an 88-day supply, which means the current inventory can last 88 days of average daily sales. Even worse, the Mustang Mach-E ended June with a 116-day supply.
So while Ford may be getting better at making its F-150 Lightnings and passing along those savings to its customers, we're also seeing its EVs sit on lots and indicating a current oversupply. With that in mind, an F-150 Lightning that's priced to move makes a lot more sense.
HOW WILL COMPETITORS RESPOND?
Tesla's CEO Elon Musk already responded to Ford's price cut, tweeting that the F-150 Lightning is "somewhat expensive." While you could read this as Musk simply commenting on a competitor's pricing models, it doesn't feel like too much of a reach to suggest that Tesla could price its upcoming Cybertruck at around the same ballpark. As for Rivian and its R1T, the EV startup isn't interested in adjusting prices.
However, GM could be the automaker to really challenge Ford's current dominance in the electric pickup segment. Chevy, which falls under the GM umbrella, is expected to launch its Silverado EV, which was rumored to start at around $40,000. While that starting price was put into question after Chevy revealed the $77,950 starting price of the work-oriented trim of its electric pickup, Ford's recent price cuts may cause Chevy to try and undercut.
IS THIS THE START OF AN ELECTRIC TRUCK PRICE WAR?
We sure hope so. With the increased availability of battery materials and EV makers getting better at making EVs, we're bound to see a healthier supply of EVs. If there's enough supply to address the growing demand for EVs, then it really comes down to competitive pricing.
We're already seeing a relentless EV price war in China, so it wouldn't be surprising to see this translate to the U.S. with its love for pickup trucks. In the end, it's the customer that wins anyways.