Chevy's Electric Silverado Is Its Longest-Range EV Yet
The Silverado EV has some serious towing power and range.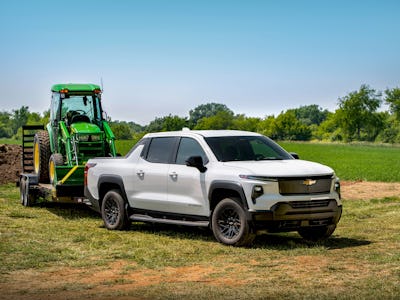 Chevrolet
Chevrolet's Silverado EV may be a full-size pickup, but it's packing 450 miles of range. Chevy introduced its entry into the electric pickup market with two initial trims: one meant for work fleets and another aimed at diehard Silverado fans.
On top of revealing specs for launch trims on the Silverado EV, Chevy offered up some disappointing pricing details. While we first heard that the Silverado EV would start at around $40,000, it's looking less likely since the starting price of the work-oriented Silverado EV comes in at $77,950. Even more expensive, the RST First Edition starts at $105,000. At those prices, it does fall within the price range of Ford's F-150 Lightning and Rivian's R1T, but it doesn't do much on undercutting the price.
HEAVY-DUTY HAULING
The Silverado 4WT model was designed for fleet customers and has a combined 510 horsepower and torque of 615 lb-ft. Those specs translate to a towing capacity of 10,000 lbs and the ability to handle 1,400 lbs of payload. Eventually, Chevy plans on putting out a fleet model that can handle 20,000 lbs of towing with a max tow package. Even though it's designed as a full-size pickup, the Silverado EV will get 450 miles of range on a single charge thanks to a 24-module Ultium battery.
For its flagship RST First Edition model, Chevy added in four-wheel steering, an automatic air suspension that adapts to its environment, a configurable midgate, its Multi-Flex tailgate, as well as a 17-inch infotainment system and an 11-inch driver display in the interior.
Both the Silverado EV models can charge up to 350 kW, allowing around 100 miles of range in roughly 10 minutes of fast charging. Chevy even put bidirectional charging on the Silverado EV with its PowerBase charging system that has up to 10 outlets and can output 10.2 kW to power tools or devices.
CHEAPER MODELS COMING
The 4WT fleet model is set to release first, with Chevy dropping the more affordable 3WT fleet model with an estimated 350 miles of range afterward. For non-fleet customers, the Silverado EV RST First Edition will come out in the fall with its expected 400-mile range.
If you're looking for an affordable electric pickup, you'll have to be more patient. Chevy says it will eventually release a fleshed-out portfolio of Silverado EVs, including opening up the commercial models for regular customers. Chevy also says that it will have Silverado EVs in different trims that start as low as $50,000. With the potential for tax credits, that does get you closer to that initial $40,000 figure, so an affordable electric pickup may still be on the table.