What the End of the Chevy Bolt EUV and EV Means for Affordable EVs in the U.S.
The most affordable EV available in the U.S. is taking a final bow.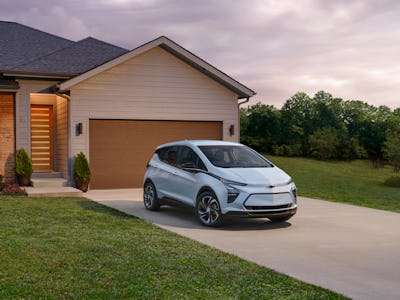 Chevy
The most affordable EV available in the U.S. is on its way out. Chevy sent out an email saying it would discontinue the Bolt EV and the Bolt EUV at the end of 2023. According to the email, Chevy is still planning to offer support for the EV models even though it's ending production on them.
The Bolt EV and EUV shared a solid reign as the most affordable EV for Americans. The Bolt EV was the automaker's first-ever EV and has since developed a reputation as the go-to recommendation for those looking for an affordable option to switch to EVs. Now without the Bolt, we're left with one less option in an already-tight market of affordable compact EVs in the U.S.
WHAT HAPPENED TO THE CHEVY BOLT EV AND EUV?
Chevy discontinued both models after having first introduced the Bolt EV in 2016 and the larger Bolt EUV in 2021. The Bolt EV was Chevy's first attempt at producing an entry-level EV and it's now one of the brand's best-selling EVs, helping it reach second place in U.S. EV sales.
They may have been a popular option, but the Bolt models haven't been without their problems. Chevy issued a major recall in 2021 after discovering the risk of the battery packs catching fire. A year later, Chevy had to issue another recall involving the seat belt's pretensioner deploying and potentially setting the car's carpet on fire.
WHY ARE THE CHEVY BOLT EV AND EUV BEING DISCONTINUED?
It seems a bit confusing that Chevy would discontinue such a top-selling model. Still, we're sure that Chevy is looking towards its all-electric future when it comes to discontinuing the Bolt models. The Bolt was built on an older EV architecture, meaning it won't line up with GM's modern platform called Ultium.
GM and its brands have adopted the Ultium platform with many of its recent models, including the GMC Hummer EV and the Cadillac Lyriq. Even Chevy will be switching over to the Ultium platform with its Silverado EV.
WHAT OTHER AFFORDABLE EVs ARE AVAILABLE IN THE U.S.?
With the Bolt being discontinued, there will be a serious void when it comes to an ultra-affordable, compact EV. Within Chevy's lineup, the closest we'll get is the upcoming Equinox EV, which isn't a compact SUV and has a starting price of around $30,000.
There are existing alternatives to the Bolt EV and Bolt EUV outside of Chevy, but none are as cheap as the respective starting prices of $26,500 and $27,800. You can go for the Nissan Leaf which starts at $28,040 but there are rumors that it will follow a similar destiny as the Chevy Bolt.
For a bump up in price, you could also opt for the Hyundai Kona EV which starts at $33,500. The Kona EV is significantly more expensive but Hyundai looks to be invested in the small SUV's future since the automaker will be refreshing it with a new look.
WHAT ABOUT AFFORDABLE EVs OUTSIDE THE U.S.?
Take one look at the EV market outside the U.S. and you'll find plenty of affordable options. In China, Zeekr — a brand owned by Geely, who owns both Volvo and Polestar — just revealed its latest electric SUV that has premium features, but goes for around $28,000.
Across the Atlantic, Volkswagen has plans for an ID.2 that will come with a €25,000, or roughly $27,400, price tag and be exclusive to European markets. Even better, Volkswagen is planning to drop an EV that will cost less than €20,000, or around $21,900, also only in Europe.
Even Hyundai is jumping in on that affordable compact EV market in Europe, after confirming plans to develop an affordable option that costs around €20,000. It makes sense since China and Europe are more suited for these types of compact EVs. Still, it doesn't make us any less jealous when we see how far behind the U.S. is when it comes to affordable EVs.