This Startup's Tiny Electric Pickup Is the Antidote to Giant Trucks
This electric pickup may be no longer than a Mini Cooper, but it can still do it all.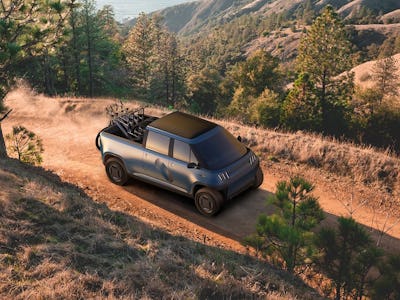 Telo
Finally, an electric pickup truck that's not a hulking presence on the road. Telo introduced its mini electric pickup truck that combines the functionality of a Toyota Tacoma with the footprint of a Mini Cooper.
It's wildly refreshing to see a design that offers the best of both worlds, especially considering the massive size of all the current or upcoming EV pickups like the Ford F-150 Lightning, Tesla Cybertruck, or the Rivian R1T. Even though Telo's design is compact, it still has a decent range and is equally at home squeezing into a tight parking space in the city or packed to the gills for a weekend adventure.
DESIGN YOUR OWN
The Telo will have the same interior space as a Toyota Tacoma, fitting five in its default configuration. Outside, it will have a 60-inch bed that's also the same truck bed length as the Tacoma. However, the entire Telo will only be as long as the Mini Cooper, measuring 152 inches long, 73 inches wide, and 66 inches tall.
Telo is promoting a modular design where you can configure the mini pickup for whatever occasion you throw at it. You'll be able to get rid of the back seats and stretch out the truck bed to fit eight-foot-long plywood sheets or a surfboard, even with the tailgate up. Alternatively, you can seat up to eight people when you add another row of seats to the truck bed. To make your third-row passengers more comfortable, there will be a storage tunnel under the bed that can be converted into a footbed and even a hard top you can fashion onto the truck bed to make the Telo feel more like a minivan.
Even though a lot of attention was put into the design, the Telo will still pack a punch. It will go from 0 to 60 mph in four seconds, have 500 horsepower, and top out at 125 mph. Thanks to a 106 kWh battery, it has a range of 350 miles and can fast charge from 20 to 80 percent in 20 minutes.
UP FOR PREORDER
Telo has put up its mini electric pickup for preorder now for a fully-refundable deposit of $152, a reference to how long the Telo's length in inches. The EV startup is looking to have a prototype completed by the summer, with 500 hand-built vehicles by the end of 2025 and 10,000 expected in 2026.
While we understand the need for heavy-duty pickup trucks, Telo's miniature design is something that's severely lacking in the current market. Not to mention, the design is safer with a shorter nose that allows for better visibility. Still, Telo is only a startup at the moment, so we may have to reserve our excitement for when the truck actually hits the market.