How Tesla's Eye-Popping Discounts Are Igniting an EV Price War
But we, as the consumers, win in the end.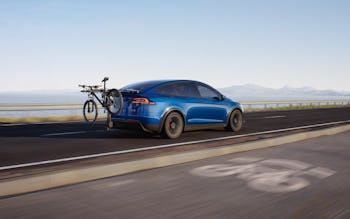 It's another round of discounts for Tesla's recent price-chopping campaign. This time, Tesla dropped the starting price for its two most expensive models, the Model S and the Model X, by as much as nine percent.
It can be hard to keep track of how expensive Tesla EVs are lately since the company has adjusted the prices so many times in the last few months. As recently as January, Tesla dropped its Model Y mid-size SUV to $52,990, representing a nearly 20 percent discount. While that's been the most significant price reduction, it certainly hasn't been the only one.
Tesla is still the dominant force in the EV market, but it's facing a lot more competition when compared to its early days. It now has to go against the likes of burgeoning EV models from other legacy car brands, like BMW or Hyundai. Instead of Tesla being the only EVs on the market and being able to dictate how they should be priced, it now has to consider how its lines up with other competitive EV options.
CHANGING EV LANDSCAPE
The latest price cuts target the starting prices of Tesla's higher-end models, dropping the Model S from $94,990 to $89,990 and reducing the Model X from $109,990 to $99,990. Tesla also reduced the performance variants of both models, dropping both the Model S Plaid and Model X Plaid to $109,990.
Tesla's strategy of lowering prices could be interpreted as a way to drive up demand. However, Tesla's many rounds of price reductions have also stoked a price war among EV makers looking to get a foothold in the U.S. market and beyond. Tesla has also had to adjust its prices in China, where it's facing competition with major players like BYD.
Another major reason behind Tesla's Model Y price cut comes from the changes to the federal tax credits for EVs. With the Inflation Reduction Act of 2022, the EV you buy must fall below an $80,000 price tag if it's a van, SUV, or pickup truck, and below $55,000 for other vehicles. This change to the federal tax credit can be clearly seen in how Tesla dropped its Model Y crossover to a starting price of $52,990.
MORE PRICE DROPS
It feels like we're still in the early stages of this price war amongst EV makers, so we can likely expect more market adjustments. However, Tesla may have an upper hand here as it can use its market dominance as leverage in this ongoing price battle. Considering Tesla has several best-selling models in the U.S., it has more leeway to reduce prices across the board as a way to drum up more demand.
We're already seeing the pressure affect Ford, who cut the price of its Mustang Mach-E by around $4,500 depending on the trim. All said, a price war is great for the consumers looking to buy a new EV.