How China's Most Popular EV Company Could Take On Tesla
BYD is one of the world's largest EV companies and it just announced plans to move into the German market.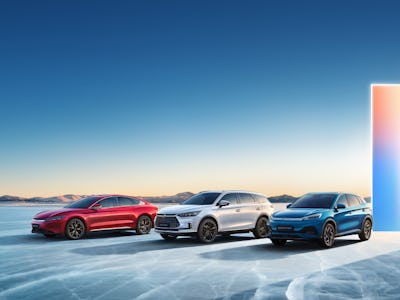 BYD
There has been such a wave of demand for electric vehicles that most of us are familiar with brands like Tesla and Rivian. Even legacy American car brands like Ford and GM have entered the expanding market. Surprisingly though, one of the world's largest EV brands may be one most people aren't familiar with.
The Chinese automaker BYD saw a huge burst in sales in 2022, topping Tesla when you factor in BYD's plug-in hybrid EV sales, according to EV Volumes, a site that tracks global EV sales. BYD came in second to Tesla if we're only talking about battery-powered EVs, but still managed to sell roughly 900,000 all-electric models. BYD has dominated the Chinese EV market much like how Tesla captured the U.S. market.
Now, BYD has its eyes set on expanding into Europe, more specifically Germany, according to a New York Times report. Germany already has its share of automakers diving into EVs, including BMW, Audi, Mercedes-Benz, and the ever-dominant Volkswagen. With plans to open an assembly plant in Germany, BYD is clearly confident that its EVs can take on those legacy German brands.
THREE MODELS COMING TO GERMANY
For its German expansion, BYD is planning to release three models: the Atto-3 compact SUV, the Tang full-size EV, and its flagship sedan, the Han. While these three form factors would probably do well in Europe, they would equally satisfy what American EV consumers are looking for. Americans are partial to SUVs and there's been a bunch of fully-electric SUVs announced for the U.S. market from automakers like Kia and Volvo.
BYD may still be an unknown brand stateside, but the Chinese automaker has been making waves in other countries. BYD recently expanded to Mexico, announcing a partnership with eight local dealers in Mexico and introducing the Han and Tang models. Nearby, BYD also has established a presence in Brazil, Costa Rica, Uruguay, and the Dominican Republic.
FILLING THE GAP
There's already a precedent for Asian car companies entering the U.S. The Vietnamese carmaker VinFast has been making a heavy push into the U.S., introducing four models and plans to open a manufacturing plant in North Carolina. It's important to note that there's somewhat of a void to be filled regarding EVs from Asian car companies considering that Toyota and Honda have fallen behind the competition.
The million-dollar question remains whether BYD has plans to enter the U.S. market —ongoing political tension between the U.S. and China won't help, but there's still a chance that BYD may become too big of an EV maker for the U.S. to ignore.