How VinFast is gearing up to become America's next big EV brand
The Vietnamese automaker has ambitious plans with its four EV models coming to North America.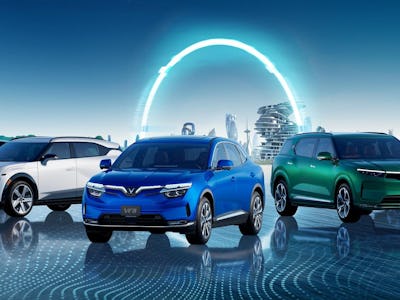 VinFast
VinFast may not be as ubiquitous of an electric vehicle brand as Tesla, but that's not stopping it from trying. After getting its start in 2017, the Vietnamese automaker has been making major moves including transitioning into EVs and expanding beyond its home market. In a big step towards globalization, the little-known brand started making waves after showing off its EVs during the Los Angeles Auto Show and CES events.
Now, VinFast has several EV models lined up for release in the North American market. Each model covers a certain demographic, ranging from a hot hatchback to a full-size SUV. The company is even considering making e-bikes in the near future. That said, we're curious to see if all of this is enough to make VinFast a serious contender in the North American EV market.
IS VINFAST COMING TO NORTH AMERICA?
So far, VinFast has plans to build out its U.S. headquarters in Los Angeles, along with a manufacturing plant in North Carolina. More recently, the company announced it would merge its Canadian operations with its U.S.-based headquarters to create VinFast North America.
According to VinFast, this move would help increase efficiency, streamline operations, reduce expenses, and enhance the delivery of its EVs for North America. It's worth noting that these major decisions were made within the last couple of years, signaling that VinFast is serious about its expansion plans into North America.
WHAT KIND OF EVS WILL VINFAST OFFER?
VinFast announced its plans to pivot into EVs in 2021, but the company already has four models ready to go into production for the North American market. From the start, VinFast said it would design EVs across the segments and it has gotten off to a good start with its first few models. The VF6 is the smallest of the bunch as a five-seater hatchback, while the VF7 is slightly larger as a five-seater crossover.
VinFast is bringing its two larger models, the VF8 and the VF9, to the North American market first, though. The VF8 fills the midsize SUV slot, while the flagship VF9 represents the three-row full-size SUV. The starting lineup definitely fills what most U.S.-based customers are looking for in an EV, but it'd be nice to see what a direct challenge to something like the Tesla Model 3 looks like from VinFast.
WILL VINFAST BE ELIGIBLE FOR AN EV TAX CREDIT?
While VinFast's offerings look solid, there's one major catch that could hold them back: VinFast's models may not qualify for tax breaks since the starting price for the VF9 exceeds the $80,000 threshold with the latest iteration of the federal EV tax credits.
The good news is that VinFast understands that the tax credits are a huge incentive and offered rebates of up to $7,500 if you get denied from the federal credits. You just have to convert your preorder into a binding contract that commits you to buy a VinFast EV. For those who are decided on purchasing a VinFast, this is hardly a difference. For those still on the fence about their preorder, this could be enough to turn to another car brand.
WHEN WILL VINFAST'S EVS BE AVAILABLE IN THE U.S.?
VinFast already had its first EV touch U.S. soil with its VF8 City Edition. This limited-edition model became available to California residents starting in December. The VF8 City Edition comes in two trims, both of them all-wheel drive and offering an unfortunately unimpressive range of 179 miles. The VF8 Eco City Edition trim starts at $55,000, while the Plus City Edition starts at $62,500, excluding the destination and handling fees.
As for its other models, the VF9 opened for preorders back in November along with the base edition VF8. During CES 2023, VinFast announced that its VF6 and VF7 models will offer early reservations starting in March. With the pace that VinFast is going, the Vietnamese automaker may provide to be an actual contender in the growing EV market in the U.S.