Hyundai's Ioniq 6 Is Shaping Up To Be Another Early EV Success
Starting at $41,600, the Ioniq 6 will fill the role of an affordable electric Hyundai that's not an SUV.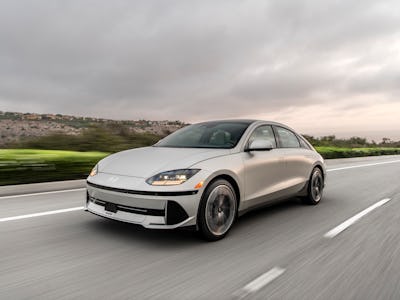 Hyundai
Hyundai could have another winner on its hands with its latest electric vehicle. Recently, the Korean automaker revealed the pricing for its highly-anticipated Ioniq 6, and when combined with its competitive range numbers and unique look, the EV looks to be a solid follow-up to Hyundai's Ioniq 5 SUV.
Hyundai debuted the Ioniq 6 at the Los Angeles Auto Show in November, showing off a distinctly curvy design. Being Hyundai's first all-electric sedan, the Ioniq 6 had a lot of pressure on it to set the tone for Hyundai's EVs going forward. We were all eager to learn about the price point and now that we know that the Ioniq 6 starts at $41,600 — as a result, we're expecting the sedan to do just as well as its SUV sibling.
COMPETITIVE RANGE
Along with a decent price, Hyundai also confirmed the Ioniq 6's range numbers. The Ioniq 6 tops out at 361 miles with its long-range rear-wheel drive model, just nudging out Tesla's Model 3. The base model has a more modest range of 240 miles, but all of the Ioniq 6's trims support 800V/350kW fast charging that can get the battery from 10 to 80 percent in under 18 minutes.
It's a competitive field in the EV market when it comes to range, so carmakers are obligated to make something with a usable range. Hyundai has not only improved on the Ioniq 5's 303-mile range but made the Ioniq 6 with a range that can compete with some of the best long-range models currently on the market, like the Model 3.
With a starting price of $41,600 for the Ioniq 6, Hyundai is keeping prices fairly level with the Ioniq 5 and its starting $41,450 price tag. More importantly, the $45,500 price with the long-range model that gets 361 miles feels competitively priced. For those looking for the highest quality trim, Hyundai is offering a dual-motor all-wheel drive trim with 20-inch wheels and 320 horsepower for $56,100.
FOLLOWING THE FORMULA
The Ioniq 6 also comes loaded with a ton of tech features like blind-spot collision warning, lane-keeping assist, lane-following assist, smart cruise control, and ambient lighting. Hyundai says the Ioniq 6 will arrive at dealerships this spring, so we'll see this curvy EV on the streets very soon.
With one popular EV under its belt and the Ioniq 6 coming soon, we're curious if Hyundai can keep up this momentum with all of its 17 battery-powered EVs it's expected to offer by 2030. The appetite for EVs is certainly there and if Hyundai continues to release more Ioniq models that have the price, range, and looks, it could become the automaker to beat in the EV market.