Tesla Wants to Push EV Charging Toward a Wireless Future
But how far away are we from that convenient future?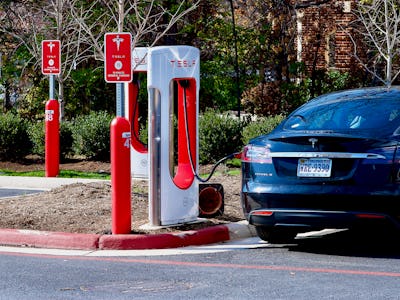 John M. Chase/iStock Unreleased/Getty Images
As a society, we've been obsessed with abandoning wires and adopting wireless alternatives. It's only reasonable that we'd eventually want to charge our EVs wirelessly, too. The idea isn't new, but Tesla teasing what looks like its version of an at-home wireless EV charging kit could be the push that the technology needed.
Tesla previewed its potential wireless home charging kit during its Investor Day event yesterday, along with its retro diner idea at one of its Supercharger stations. Driving onto a pad that charges your Tesla automatically seems like an achievable goal, but the automaker only offered this teaser so far. While there are a few third-party companies offering wireless charging pads, many EV owners are still used to hooking up bulky wires to get their vehicles charged up. If any company could generate momentum for wireless EV charging, it would be Tesla.
SPARSE ON SPECS
There are barely any details surrounding Tesla's supposed wireless home charging station. However, Tesla has played around in the wireless charging space with its recently-released Wireless Charging Platform for things like smartphones and wireless earbuds.
If we look at the existing wireless EV charging pads from third-party companies like WiTricity and Plugless Power, we can see the obvious merits. Wirelessly charging your Tesla is far more convenient since you don't have to deal with bulky cables, but it's also more likely that you won't forget to charge your EV overnight since all you have to do is park on top of the charging pad in your garage. Other carmakers have been looking into this, with BMW even opening a pilot program in the U.S. that lets drivers charge a plug-in hybrid via its "GroundPad" simply by driving over it.
There are likely to be downsides to wirelessly charging your EV, though. It probably won't be as efficient as wired chargers, particularly DC fast chargers. We saw this disadvantage play out with wireless phone chargers, which tend to be more expensive than wired options as well.
That does mean that Tesla's Supercharger stations across the globe are probably going to remain wired to offer drivers a much quicker way to charge. Wireless charging still makes sense at home though, since you're most likely charging your EV overnight.
STANDARDIZED CHARGING
It would make a lot of sense for Tesla to be one of the automakers to popularize wireless EV charging considering its large market share of EVs currently. With Tesla recently opening up its Supercharger network to non-Tesla EVs, there's hope that this wireless technology won't be restricted to just Teslas.
While wireless EV charging tech is still fairly new, there's an opportunity to standardize it before it becomes a mess of competing standards that we currently have with wired options. The Society of Automotive Engineers has already put out a standardized option back in 2020, as reported by ArsTechnica. We don't know if Tesla is planning to adopt this standard or go it alone, but it would be much appreciated to have the wireless option not be as confusing as wired EV charging.