Who Needs Wireless When Your Phone Can Fully Charge in 5 Minutes With a Cable?
Maybe wireless charging isn't what we need after all.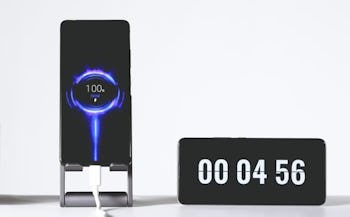 Redmi
Low battery warnings on smartphones may no longer be a reason to stress thanks to a race by Chinese phone makers to make the fastest fast charger.
The latest world record comes from Xiaomi and its subsidiary, Redmi. In a Weibo post, Redmi showed off a demo of its Note 12 Pro+ charging at a blistering 300W and hitting a full charge in less than five minutes, making it the world's fastest-charging phone ever. 0–100 percent in five minutes. Just wrap your head around that speed for a moment. Xiaomi also introduced its 300W HyperCharge feature at MWC23, backing up the absurd speeds we saw with the Redmi demo.
That's the fastest wired charge we've seen so far, while also boasting the most powerful wattage yet. We saw a previous benchmark with Realme's GT Neo that charged in nine minutes using 240W wired charging. Redmi's latest breakthrough makes its previous milestone of 210W fast charging on its Note 12 Discovery Edition just a stepping stone towards even faster wired charging speeds.
FULL CHARGE IN FIVE MINUTES
In Redmi's demo, the 300W charging can get its Note 12 Pro+ with a 4,100 mAh battery from 0 to 100 percent in just under five minutes. If you don't have five minutes to spare, the smartphone hits 50 percent in less than three minutes. Redmi also measured the charger's output, which hits as high as 290W at its peak and maintains a supply of 280W for up to two minutes.
That's all very impressive, but it's definitely overkill. Redmi and Xiaomi have been competing with other Chinese phone makers like Realme, OnePlus, and Vivo where it feels like a non-stop arms race of who can offer the fastest wired charging.
But what about wireless charging? Well, all these record-breaking speeds for wired charging have left wireless charging feeling rather slow in comparison since it tops out at 100W with Honor's Magic 4 Pro.
Wireless charging may have been billed as the novel tech that would make wired charging obsolete, but it seems the opposite case may be true. With how fast wired charging is getting these days, charging your smartphone for only five minutes means that the convenience of wireless charging is lost on the consumer. After all, you would barely have to spend any time with your phone plugged in.
FAST CHARGING FOR EVERYONE
As the ceiling for fast charging keeps rising, we're hoping that it may also bring up the floor of fast chargers. It's not too farfetched to see people seeking out faster wired charging speeds after they hear about such absurdly fast charge times at the top.
We don't know the future implications of this ultra-fast charging, namely what it does to long-term battery health and charge cycles. Still, there may be a lot of appeal for charging your smartphone in minutes as opposed to the trickle charge you get from wireless chargers.
Before you get excited about sub-five-minute charging times for your smartphone though, Xiaomi and Redmi didn't reveal if its 300W fast charging would be coming to consumers yet. That's on top of the fact that Xiaomi's smartphones aren't sold in the U.S. Apple or Samsung could certainly take a hint, though.