Oppo's First Foldable Phone Beats Samsung's Galaxy Flip Where It Counts
Oppo put a larger cover display and battery onto the Find N2 Flip, which will be introduced in European markets.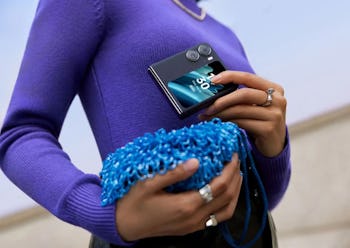 Oppo
After developing its first foldable smartphone in 2021, Oppo is jumping into the niche market of clamshell foldables. During its global launch event in London, Oppo announced its Find N2 Flip phone that's a clear challenger to Samsung's dominant Galaxy Z Flip 4.
Oppo may not be as globally recognized as Samsung, but the Find N2 Flip's design addresses some lingering issues with clamshell foldables. Instead of having to flip to the main screen all the time, Oppo designed a larger cover screen that has more functionality. Oppo also incorporated a larger battery and its waterdrop hinge. This improved design may be enough to pull some customers away from Samsung, but Oppo is still only available in limited markets.
Keeping it folded
With Oppo's Flexion Hinge, the company claims its clamshell foldable has the "most invisible crease" and can survive 400,000 folds. When folded, the 3.26-inch cover display is notably larger than the Z Flip 4 so you can see far more notifications. The Find N2 Flip's cover screen has features like smart widgets, interactive backgrounds, and Quick Reply which lets you send emojis or pre-programmed responses.
Inside, the 6.8-inch AMOLED display has a 2,520 x 1,080 resolution with a 120Hz refresh rate. A larger 4,300 mAh battery powers the Find N2 Flip, which can get you around 20 hours of video streaming and fast charges up to 50 percent in 23 minutes.
Find N2 Flip specs
Display: 6.8-inch interior display/3.26-inch cover screen
Memory/Storage: 8GB RAM / 256GB
Battery: 4,300mAh
Chip: Dimensity 9000+
Colors: Astral Black, Moonlit Purple
Oppo co-developed the Find N2 Flip's camera system with Hasselblad so you can hear the leaf shutter sound while getting Hasselblad's XPan mode and natural color calibration. The main wide-angle camera has 50 megapixels, while the front-facing camera has 32 megapixels. Unlike other smartphones, you'll get more mileage out of the main camera even when taking selfies, since you can see previews on both screens while taking pictures.
Due to its clamshell design, the Find N2 Flip has Flexform mode that has the smartphone serve as its own tripod so that you can just make a gesture to snap a selfie. The Oppo clamshell's main camera can also shoot up to 4K 30fps video and has slow-mo, movie, and timelapse modes.
Find N2 Flip camera specs
Wide: 50 megapixels (f/1.8, AF, 86-degree FOV)
Ultra-wide: 8 megapixels (f/2.2, no AF, 112-degree FOV)
Front: 32 megapixels (f.2/4, AF, 90-degree FOV)
Competitive price point
Oppo is pricing its Find N2 Flip at £849, or approximately $1,020. For reference, the Galaxy Z Flip 4 starts at $999.99, but that's for the 128GB model. For the 8GB / 256GB model, the Samsung clamshell starts at $1,059.99.
With its global launch event taking place in London, Oppo has plans to release its first clamshell foldable to the U.K., as well as other European markets including France, Spain, and Italy. North American markets are noticeably absent again, and Oppo hasn't made any indications that it's interested in shipping its smartphones to the U.S.