Rivian Says Its Next Electric SUV Will Be a Lot More Affordable
Rivian's R2 will occupy the compact SUV segment.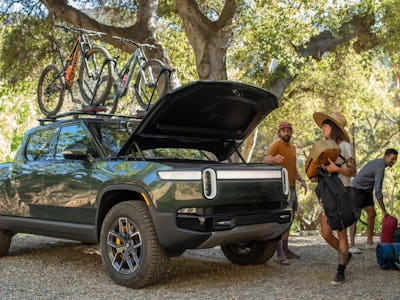 Rivian
Rivian may have gone through some growing pains with its first round of EVs, but it's plowing ahead with an upcoming R2 series. During an industry conference call, Claire McDonough, Rivian's CFO, teased more details about the company's next EV that would feature a smaller design. From what we've heard so far, the R2 is meant to be a more affordable, compact SUV designed to slot into the smaller SUV or crossover segment.
McDonough said that the R2 would be priced somewhere between $40,000 and $60,000 and meant to compete against the likes of Tesla's Model Y or the Polestar 3. The CFO also previously said that Rivian expects to produce 200,000 R2 EVs by 2026, doubling by the company's next targeted goal.
COMPACT MODELS
While no design details have been leaked yet, we're expecting the R2 to mostly follow the design cues of the R1. According to McDonough, the R2 still "maintains some of that adventure aesthetic." Like the R1 that's offered in the R1T and R1S models, the R2 will likely be made in SUV and truck variants. As far as specs, we wouldn't be surprised if the R2 was more modest considering the cheaper price tag compared to any of the R1 models.
McDonough says the R2 will see its debut in early 2024 since a design has been finalized or is nearing completion. While Rivian originally planned to introduce the R2 in 2025, more recent estimates are pointing to a later launch in 2026. Rivian did run into some delivery delays and production issues with the R1T and R1S, so any potential hiccups wouldn't be surprising.
GOING EVEN SMALLER
Beyond the R2, Rivian is already working on the following model. There's even less info out there on a potential R3 EV, but Rivian's CEO, R.J. Scaringe, previously said that it has plans to sell its next EVs in China and Europe. Scaringe also said that Rivian would pursue EVs that are more tailored for those markets, which likely means even smaller EVs down the line.