Dbrand's Translucent PS5 Plates Throw It Back to the N64
The '90s are back and we're here for it.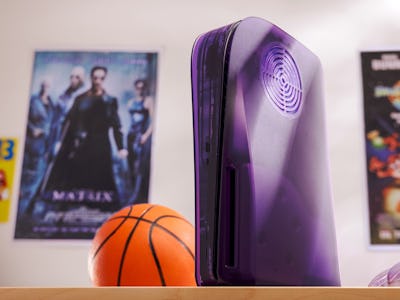 Dbrand
One of the easiest mods you can do to customize your PS5 is to change out the plates. Sony sells official non-white plates, but they should totally borrow a page from dbrand, which just announced its new Retro Darkplates — plates that shell your PS5 so that they look like an old translucent Nintendo 64 or Game Boy Color.
Dbrand CEO Adam Ijaz emailed these photos of the new Retro Darkplates kit — and just look at them, they're triggering my nostalgia tears. Ijaz says the colored translucent designs were inspired by tech from the "late 90s/early 2000s" and, hell, even the names of the Retro Darkplates are lifted from the same colors that the Nintendo 64 was released in. There's an Atomic Purple, Ice Blue, Fire Orange model, and Smoke Black. How's that for a throwback?
Each Retro Darkplates kit comes with the panels (available for both disc and digital-only versions of the PS5), a "hue-matched" middle and bottom skin, three left light strips, and three right light strips.
Here's what Ijaz said about the Retro Darkplates:
To pair with the translucent side panels, we worked with a metrology lab to scan the PS5 with industrial-grade 450Kv x-ray equipment. After multiple scans were performed, we stitched them together, then added a color-splash to hue-match each Retro Darkplate. No matter which angle you view the PS5 from - even the bottom, you get a true representation of the internals.
Sony's official "console covers" (as they're technically called) do not come with any skin for the middle section of the console. As any PS5 owner will tell you: that kinda sucks. The middle section is made of, perhaps, the most scratchable plastic ever.
Dbrand's selling its fun Retro Darkplates for $99.90; it even throws in a microfiber cloth and "mesh grille vent filters" with the kit. It's also selling a version without the light strips for $83.95; if you just want the dark plates and the mesh grille vent filters, the cost is only $69. I'm not gonna lie, I'm very tempted to get one in Atomic Purple. I don't need it because my PS5 is tucked inside a media console, but I sure want it.
Transparent and translucent (learn the difference) gadgets are having a little moment right now. Nothing's Ear 1/Stick/2 wireless earbuds and its Phone 1 and upcoming Phone 2 rebooted the trend. Beats recently released its Studio Buds+ with a translucent design. Countless other accessory makers are getting in on the retro fun, too. I'm 100 percent here for it. Gadgets should be fun again and they should spark our interest in how they work — transparent and translucent tech helps.