Nothing Confirms Phone 2 Is Launching on July 11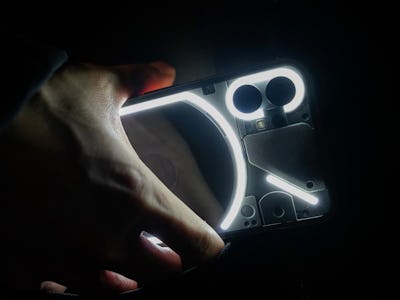 Photograph by Raymond Wong
Nothing's Phone 2 has an official launch date: July 11. Though the company has yet to reveal the Phone 2 in all of its transparent glory (oh hello design leak!), it did share the below teaser image for the launch date.
"Come to the bright side" reads the image, along with a look at the LED Glyph interface that Nothing popularized on the Phone 1. As you can see, the LEDs are slightly different on the Phone 2; there are more individual LEDs, which could mean more options to customize them for different notifications and functions.
Carl Pei, co-founder and CEO of Nothing, has expressed before that he wanted to see the LED Glyph interface become more useful. In the teaser image, I can count at least 10 LEDs.
The below image also shows a sliver of the Phone 2's metal sides, suggesting that they'll be curved as opposed to flat.
Confirmed Nothing Phone 2 Features
Pei and Nothing love to drip-feed tidbits to build up hype for their products, and the Phone 2 is no different. So far we know a few key things.
The Phone 2 is powered by a Qualcomm Snapdragon 8+ Gen 1 chip and has a larger 6.7-inch display. Last month, Pei said they're going with the 8+ Gen 1 chip as opposed to the Snapdragon 8 Gen 2 chip found in other flagship Android phones like the Samsung Galaxy S23 Ultra and OnePlus 11 in order to save on cost. He played up that the Phone 2 is "twice as fast" as the Phone 1 when it comes to opening apps thanks to its "80% overall performance improvement." Other features he touted for the 8+ Gen 1 versus the Phone 1's mid-range Snapdragon 778+ chip are better battery life, improved image processing for the camera, and upgraded networking connectivity.
Pei has also confirmed the Phone 2 has a 4,700 mAh battery — 200 mAh more than the Phone 1.
Based on the Phone 1, it's safe to say the Phone 2 will have at least 8GB of RAM (a recent Geekbench score suggests there could be a 12GB model), an AMOLED display with 120Hz, and wireless charging.
Launch Date Details
As I revealed in my exclusive, Nothing is pulling out all the stops for the Phone 2. The company recently hired former OnePlus chief marketing officer, Kyle Kiang, as VP of North America to shore up its presence for the Phone 2, which is launching in the U.S. This time around, Nothing is targeting tech enthusiasts.
Nothing has also been on a hiring spree to build up its software development team, poaching a boatload of ex-OnePlus engineering talent. The company's Nothing OS 2.0 is entirely designed in-house this go around, with the aim of the home screen to have more intentionality and personalization.
"Seventy percent of the software team at Nothing are from OnePlus," a source familiar with the company's operations, who asked to remain anonymous, told me.
All will be made clear on July 11. Nothing is streaming its Phone 2 event on its website at Nothing.tech. The livestream kicks off at 11:00 a.m. ET.