Exclusive: How Nothing Plans To Make the Phone 2 a Big Success
By poaching tons of talent from OnePlus and catering to tech enthusiasts.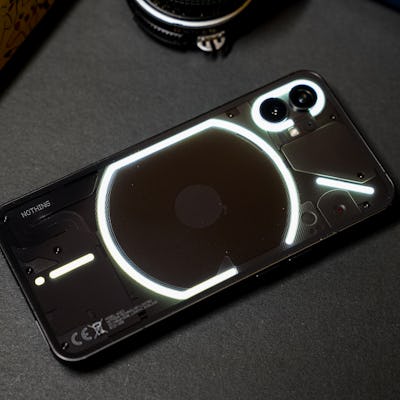 Photograph by Raymond Wong
When Nothing launches the Phone 2 this summer, the tech startup will march forward with a renewed sense of purpose: to rekindle the magic of OnePlus.
The original, scrappy, underdog OnePlus caught the phone industry off guard and won over tech enthusiasts worldwide. Not the new, corporate OnePlus, which critics have said has lost much of the soul that made it such a potent disruptor.
This should come as no surprise considering that Nothing co-founder and CEO, Carl Pei, also co-founded OnePlus before abruptly leaving the company in 2020. Inverse has exclusively learned that Nothing has made several key hires — former high-level OnePlus members who were instrumental in building the brand — ahead of the global release of Phone 2.
From hardware and software engineering to marketing, Nothing has been aggressively poaching talent from OnePlus to ensure the Phone 2 sticks the landing. "Seventy percent of the software team at Nothing are from OnePlus," a source familiar with the company's operations, who asked to remain anonymous, tells me. "Thirty percent of the hardware team is from OnePlus."
Who is the Phone 2 For?
The messaging around Nothing's products has been all over the place ever since Pei announced its first product, the Ear 1 wireless earbuds with active noise-cancellation. With design led by Jesper Kouthoofd, the retro tastemaker at Teenage Engineering, Nothing's products quickly established the company as a design-focused brand. Transparent plastic with revealing circuitry promised consumers something fresh compared to the mass uniformity of, say, Apple products.
With each new product launch — Phone 1, Ear Stick, and Ear 2 — Nothing expanded its appeal to groups outside of the tech realm, courting fashion, art, and even the eco-conscious. At one point, Pei told me he wanted Nothing to cater to creative professionals; during the great NFT craze in early 2022, he talked about the potential to connect Nothing products with blockchains and Web3.
These non-tech spheres may have been good for building brand awareness, but nearly 2.5 years into its existence, the company is tightening its focus — for the Phone 2, at least. My source tells me Nothing is "targeting tech enthusiasts."
"The big focus is tech enthusiasts," they said. "That's pretty evident in a lot of the key hires, especially building up the software."
One of the yet-to-be-announced hires is former OnePlus Chief Marketing Officer Kyle Kiang, who I exclusively reported had left the company in 2021. As of January, Kiang has been working as Vice President of North America at Nothing. I'm told he's leading the global launch for Phone 2.
Kiang is exactly the kind of guy you recruit if your products are going after tech enthusiasts. He's briefed me on almost every major OnePlus phone prior to his departure from OnePlus and it's clear he speaks geek. At launch events, I've seen fans bombard him for selfies — selfies with a CMO, a very rare sight. On and off stage, Kiang is just a tech enthusiast speaking to other tech enthusiasts. It's a perfect fit for the Phone 2 now that Nothing is getting down to business.
Kiang's previous accomplishments at OnePlus foretell the kind of big swings Nothing is planning to take for the Phone 2. He set up OnePlus' first wireless carrier partnership with T-Mobile, which put it on track to grow phone sales by 524 percent year-over-year in the U.S. by the end of 2021.
Targeting the Phone 2 at tech enthusiasts is the same play that Pei and Kiang used to help OnePlus break through in the saturated phone market. Tech enthusiasts are early adopters who are willing to take a risk on something new and different; they are brutally honest with feedback; their vocal fanaticism makes them free and effective marketing.
As OnePlus has taught everyone, chasing growth and scale comes at the expense of product design. Even Apple and Samsung are not immune to this; Apple's missteps with the Touch Bar and butterfly keyboards are legendary. Nobody can say for sure if Nothing will end up like OnePlus years down the road, but for now, I'm hearing that the company is aligned on taking risks and "not catering to the masses." Knowing Pei's philosophies on product design, leading a company, and engaging with tech enthusiasts, I'm sure he's being careful not to repeat the same mistakes that led to OnePlus becoming a shadow of itself. In a recent Ask Me Anything on Instagram, he said taking Nothing public was the lowest on his priority list.
More Customized Software
When I tried out the Phone 1 last year, I praised its eye-catching transparent design and entertaining (but functional) LED Glyph Interface, even though the shape was cribbed from the iPhone 12 series, and it had a mid-range Snapdragon chip and average cameras.
Hardware-wise, the Phone 1 did what it was supposed to: stand out. However, the software — a customized version of Android called Nothing OS — left a lot to be desired. A mostly stock Android experience with a few sprinkles of Nothing's custom dot matrix font, NDot, here and there, Nothing OS felt rushed. It was especially evident when using apps that did feel like they had been designed, like Recorder, which has a very Teenage Engineering-esque minimalist interface so clearly inspired by old tape players.
Pei has been forthcoming about software shortcomings on the Phone 1. In an interview this past January, he told me Nothing simply didn't have the engineering manpower to build Nothing OS from scratch so they had to outsource software development. He blamed the outsourced team "who don't really care about the success or failure of our company" for the half-baked job. I've independently confirmed with several sources familiar with the matter that Nothing has indeed greatly expanded its software team.
I'm told Nothing has tasked several ex-OnePlus software leads with designing Nothing OS to be distinct. Among the members leading software design are Shawn Liu, one of the lesser-known co-founders of Nothing who is head of mobile product development and led the development of OxygenOS and neat OnePlus features like Zen Mode and the software for the always-on display; Cookie Xu, head of software product, and who led the creation of Reading Mode, Expanded Screenshot, and the Alert Slider software on OxygenOS; and Sam Lee, head of mobile software.
From my understanding, the integration of software and teams between OnePlus and Oppo, its sibling tech brand, made it nearly impossible to create meaningful software features like Reading Mode and Zen Mode. Instead, priority was given to merging OnePlus' OxygenOS with Oppo's ColorOS until it barely resembled its near-stock Android experience.
Separately, I've seen several software mockups depicting a new take on the home screen. At this time, all I can say is that the UI appeared to break with the established grid layout. That was at the end of last year and I can't confirm whether or not what I saw will end up on Phone 2.
Finding Its Place
Hiring Kiang for the Phone 2 launch and scooping up ex-OnePlus engineering talent, and building out a whole new U.S. marketing and PR wing shows how serious Nothing is about finding its place — and fast. Apparently, it thinks that place is unseating OnePlus.
The old OnePlus that captured the hearts of tech enthusiasts with "flagship killer" devices that undercut Apple and Samsung "is not really there anymore" said a source familiar with the matter. If there's one takeaway, it's that Nothing is trying to do what old OnePlus stopped doing.
As a tech reviewer and enthusiast who follows the consumer tech industry very closely, watching as companies rise and fall, it's hard to dispute the behind the scenes at both OnePlus and Nothing. While OnePlus phones, like the latest OnePlus 11, remain largely solid, I do feel they lack the je ne sais quoi that made people smash their phones to get one or buy tickets to a launch event. There's nothing wrong with OnePlus maturing and broadening its lineup to cover more price points, it's just more fun to root for a brand that not only makes cool products but feels like a movement, too.