What To Expect From Tomorrow's iPhone 15, Apple Watch, and AirPods Event
Here's a cheat sheet for Apple's "Wonderlust" event.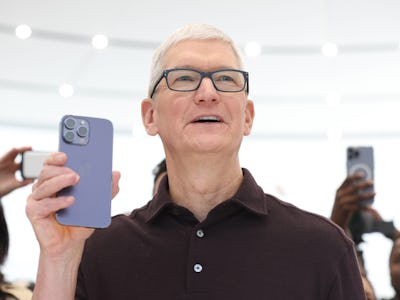 Justin Sullivan/Getty Images
Fall doesn't officially start until September 23, But in the world of consumer tech, it kicks off tomorrow when Apple announces the iPhone 15 series and new Apple Watches at its "Wonderlust" event in Cupertino, California.
The annual iPhone and Apple Watch event will start at 10 a.m. PT / 1 p.m. ET. Apple will be live streaming directly to its website and YouTube channel. As always, Inverse will have complete coverage and be live at the Steve Jobs Theater to bring you hands-on impressions of all the new devices.
Should you upgrade to the iPhone 15s and iPhone 15 Pros? Will switching from the Lightning port to USB-C create more headaches or improve convenience? What's this about Apple going leather-free with its cases and Apple Watch bands?
Here's a cheat sheet on what to expect from Apple tomorrow.
USB-C and Dynamic Island on All iPhone 15s
The headlining upgrade for the iPhone 15s and iPhone 15 Pros will be USB-C. After 13 years, Apple will finally replace the reversible Lightning port with USB-C. The port change means iPhone users will need to get new cables if they don't already have them. It will also likely bring faster data transfer speeds which would be useful for moving ProRAW photos and ProRES videos to other devices like a laptop. Rumor has it the USB-C cables included with the iPhone 15s will be braided for better durability and might even come in matching colors.
The switch to USB-C will inevitably upset iPhone users who have invested in Lightning-based cables, charging docks, and other accessories. For those people, I recommend looking into a Lightning-to-USB-C adapter instead of throwing out all your accessories. Make sure to read the product description thoroughly because not all adapters are equal. Some only do charging; some do charging and data but not audio passthrough for wired headphones or earbuds.
All iPhone 15 models — regular and "Pro" — are expected to have the Dynamic Island that has been exclusive to the iPhone 14 Pros. Used as a way to display app activities and alerts, the Dynamic Island was touted as a triumph in blending hardware and software to create an experience that felt more "alive."
One year later… it's clear the Dynamic Island hasn't lived up to its potential. That could all change with the iPhone 15 getting the feature. More iPhones with the Dynamic Island could incentivize developers to actually update their apps to support it, as opposed to being a premium feature reserved for iPhone Pro users.
Thicker, But Lighter iPhone 15 Pros
According to the latest rumors, five things are a lock for the iPhone 15 Pros. First, the larger of the two iPhone 15 Pro phones will apparently be called "iPhone 15 Pro Max" and not "iPhone 15 Ultra" as previously rumored. It's a mouthful of a name, but it's likely Apple could save the Ultra name for next year's iPhone 16 or it was a fake name that was going around.
Second, the iPhone 15 Pro and 15 Pro Max will have a titanium mid-frame instead of the stainless steel that Apple has used for all of its "pro" iPhones since the iPhone X. This new frame will be sandwiched between the display and frosted glass back, which will reportedly have gently curved sides for a better in-hand feel.
Third, with the change to titanium, the iPhone 15 Pros will be around 10 percent lighter than the iPhone 14 Pros, but marginally thicker, according to Bloomberg. A thicker phone usually means increased weight, but not for the iPhone 15 Pros. Titanium, as you may already know, is a strong but lightweight material — a lot lighter than stainless steel.
Fourth, the iPhone 15 Pros will have an "Action" button that replaces the mute switch above the volume rocker. This Action button is expected to be customizable much like the same one on the Apple Watch Ultra, allowing for quick access to certain features like the camera, flashlight, or Focus modes.
And fifth, the iPhone 15 Pro Max will have one feature the smaller 15 Pro won't: a periscope telephoto lens for taking better zoom photos. That's been a feature on Android phones for many years, but it'd mark the first time Apple improves the telephoto lens with the same technology on an iPhone. Sadly, the massive camera bump I want Apple to make flush is staying.
Faster Apple Watches
The rumored 10th anniversary "Apple Watch X" redesign isn't due until next year or 2025. Tomorrow's new Apple Watch announcements are expected to be less flashy.
A faster "S9" chip is rumored for both the Apple Watch Series 9 and Apple Watch Ultra 2 (Series 2?) according to to Bloomberg. The report also says there will be a new U2 ultrawide-band chip for more accurate Find My connectivity and an improved optical heart rate sensor. The Apple Watch Ultra will come in a new black color.
USB-C AirPods Pro
At some point, all of Apple's products will transition from Lightning to USB-C. The first AirPods to get the new port are said to be the AirPods Pro (2nd-gen), which would leave AirPods (2nd gen), AirPods (3rd gen), and AirPods Max as the only models with Lightning.
The port is rumored to be the only upgrade for the AirPods Pro. The rest of the hardware will remain the same, though there will be new features announced at WWDC via an upcoming software update.
One feature is Adaptive Audio, which is "a new listening mode that dynamically blends Transparency mode and Active Noise Cancellation together based on the conditions of a user's environment to deliver the best experience in the moment."
Another is Conversation Awareness, which lets you start speaking and the earbuds "will lower the volume and enhance the voices in front of the user, all while reducing background noise."
More Environmentally Friendly Products
As part of its plan to become carbon neutral by 2030, Apple will reportedly take further steps toward that greener goal. Along with using more recycled metals, the company is likely to stop using leather in some of its products. Official leather iPhone cases will be replaced with "FineWoven" ones and there probably won't be any new Hermès leather bands for the Apple Watch.
It might be curtains for leather at Apple, but I'm sure there are plenty of third-party brands who will happily sell you a case or band made of cowhide.