iPhone 15 Will Come With the Highest Quality USB Cable Apple Has Ever Made
Apple is finally seeing the light according to three credible sources.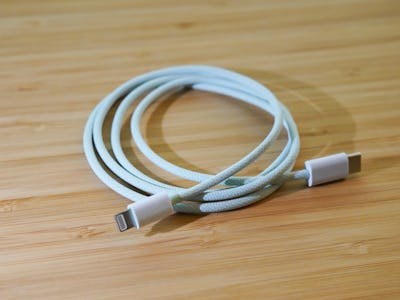 Photograph by Raymond Wong
Out of all the iPhone 15 rumors, I hope to god this one about Apple including a braided USB-C cable in the box is true.
And not just any ol' braided USB-C-to-USB-C cable — but one that matches the color of the iPhone 15. At least that's what the latest leaks claim. Twitter/X user "Majin Bu," who has a track record of sharing information about unreleased Apple products, an Apple collector named "Kosutami," and MacRumors are all reporting that color-matched USB-C-to-USB-C cables are coming with the iPhone 15 and 15 Pro models.
The braided iPhone 15 USB-C cables appear to be similar to the braided Lightning-to-USB-C cable that that Apple includes with the M1 iMac for charging the Magic Keyboard and Magic Mouse/Trackpad. You know, the one that Apple won't sell separately. Kosutami notes the heavy-duty cables come with "strain relief plastic tubes" which differ from the "woven cable" USB-C cables included with other Macs.
A photo published by MacRumors shows the cable in various colors including black, yellow, pink, blue, and purple. These seemingly confirm the colors that the iPhone 15 will come in, but not the colors for the iPhone 15 Pro/15 Pro Max.
Call me a complete nerd — I don't care — but a color-matched braided USB-C cable would be downright delightful. Because have you used the regular Apple cables made of TPE material? They suck. They get dirty and fray easily when bent in the wrong way too many times.
Switching the port on the iPhone 15s is going to be a blessing and a curse. There will be one group that will hate the change because it'll mean dumping all of their Lightning cables. The other group will love USB-C because it's one less proprietary cable to use. In the end, everyone will accept it the same way we did when Apple dumped the 30-pin connector for Lightning in 2012.
On the bright side, the switch to USB-C is looking like more than a connector change. It's rumored the port on the iPhone 15 Pros will allow for faster data transfers — possibly as fast as Thunderbolt speeds. This, as I have said many times, would be great for moving high-res ProRAW photos and ProRES videos to a computer for editing.
But if September 12 (the rumored date for the iPhone 15 announcement) comes and we don't get these color-matched cables... I'm gonna be in tears. I'll live, but I'll be super disappointed.