iPhone 15 Pros Might Have 2X More Storage To Justify Price Hikes
Another reason to get an iPhone 15 Pro instead of a regular iPhone 15.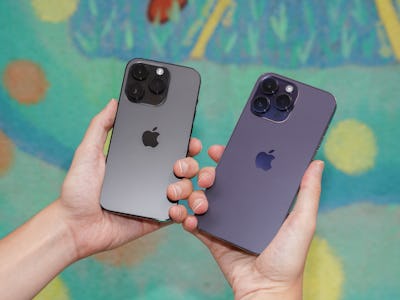 Photograph by Raymond Wong
With strong whispers pointing to Apple announcing the iPhone 15s and iPhone 15 Pros on September 12 or 13, the rumors and leaks just keep coming. Today, the iPhone rumor mill claims Apple will bump up the storage capacity on the base models and, for the first time, release an iPhone with over 1TB of storage.
Two leaks via 9to5Mac, one from a Korean blogger going by "yeux1122" and a Weibo user (discovered by MacRumors), suggest 256GB of storage will replace 128GB for the entry-level iPhone 15 Pros, and the highest tier storage will max out at 2TB versus the 1TB on the iPhone 14 Pros.
If true, storage configurations for the iPhone 15 Pros would look like this: 256GB, 512GB, 1TB, and 2TB. The last time Apple added a new storage tier (1TB) was with the release of the iPhone 13 Pro in 2021 so it's due time.
More Storage, Higher Prices
Increasing the storage on the entry-level is always appreciated, but it won't come for free. In his PowerOn newsletter for Bloomberg last week, Mark Gurman said he expects Apple to increase prices for the iPhone 15 Pros.
"I would look out for at least minor price increases across all four models outside of the U.S.," Gurman wrote. "I also wouldn't rule out a price increase in the U.S. — at least for some of the pro models — given the move to titanium and the costlier camera system on the iPhone 15 Pro Max."
Adding more storage to the base model and a 2TB option at the top would be easy ways to justify price hikes across the lineup. Tech-savvy people like myself might understand that switching to titanium and adding in a periscope optical zoom lens to capture better zoomed-in photos both add to the literal build cost of an iPhone, but new components are typically lost on most consumers. More storage, however, is something everyone understands.
Nobody likes price increases, but considering everything the iPhone 15 Pros are expected to have — a lighter titanium design, slimmer display bezels, a customizable "Action" button, USB-C, more storage, and better zoom (on the iPhone 15 Pro Max) — Apple may get away with it this year. The price hikes would be the first time in the U.S. since 2019 when Apple released the iPhone 11 Pro and 11 Pro Max, starting at $999 and $1,099, respectively.
Tim Long, an analyst at Barclays bank, said in a research note last month he expects Apple to increase the starting prices for the iPhone 15 Pro and 15 Pro Max by at least $100. Long estimates the iPhone 15 Pro will start at $1,199; the iPhone 15 Pro Max could start at $1,299, which would be a $200 increase, but also valid since it's supposed to be the only model with that periscope zoom lens.