Why the iPhone 15 Pro Is Dropping Stainless Steel for Titanium
"Pro" iPhones are too heavy.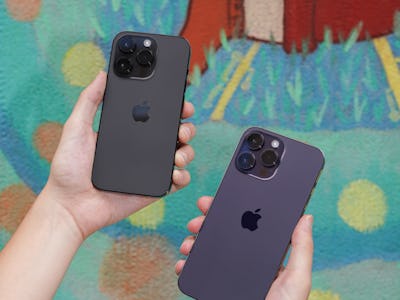 Photograph by Raymond Wong
After six generations of using "surgical-grade stainless steel" for its high-end iPhones, Apple is expected to switch to a new metal for the iPhone 15 Pro / 15 Pro Max mid-frame.
That metal is widely rumored to be titanium, and it's coming just when the iPhone needs it the most. Let me explain.
The iPhone Pros Are Too Heavy
Apple's current iPhone 14 lineup is split between the "regular" iPhone 14 / 14 Plus and the iPhone 14 Pro / 14 Pro Max. Arguably the best thing about the non-Pro iPhones is that they have mid-frames made of aluminum, a metal that is light.
On the other hand, iPhone Pros (and the iPhone X / XS before them), are made of heavier stainless steel. The metal may be heavier compared to aluminum, but it's also a lot more durable.
Since Apple started using stainless starting with the iPhone X, its Pro models have grown larger and heavier. The increasingly bigger triple-lens camera modules with larger image sensors have added a significant amount of weight each year. The numbers don't lie:
iPhone X: 174 grams
iPhone XS: 177 grams
iPhone 11 Pro: 188 grams
iPhone 12 Pro: 189 grams
iPhone 13 Pro: 204 grams
iPhone 14 Pro: 206 grams
The biggest iPhones, the "Pro Max" models are even heavier:
iPhone XS Max: 208 grams
iPhone 11 Pro Max: 226 grams
iPhone 12 Pro Max: 228 grams
iPhone 13 Pro Max: 240 grams
iPhone 14 Pro Max: 240 grams
As much as I enjoy the iPhone 14 Pro, I can't be the only one who uses Apple's iPhone Pros and finds their wrists aching with extended use.
I'm all for bigger batteries with each model, but it's time Apple puts the iPhone Pros on a diet and the design pendulum swings back in the other direction. We don't need to go back to iPhone 6 / 6 Plus levels of thinness where bendgate becomes an issue again, but lighter big phones would be great.
Titanium To The Rescue
Fortunately, Apple looks to be doing just that with the iPhone 15 Pro / 15 Pro Max. All rumors point to the high-end iPhones switching from stainless steel to titanium.
The weight benefit should be immediately noticeable in the hand. Titanium has the same strength as stainless steel, but weighs half as much. It also isn't a fingerprint magnet.
We've seen Apple show off titanium on the Apple Watch Ultra. The smartwatch is the biggest one Apple has ever made and it's still chunky on small wrists, but as almost anyone who owns one can tell you, it doesn't feel bulky. I'd greatly welcome an iPhone 15 Pro / 15 Pro Max that shaves off a significant amount of weight.
Apple will have a long list of reasons to get an iPhone 15 Pro / 15 Pro Max — a faster A17 Bionic chip, thinner display bezels, USB-C port, and periscope optical zoom lens (15 Pro Max) — but the titanium body is the one I'm most excited for. Maybe then, it won't feel like I've always got a brick in my pants pocket.