The iPhone 15 Pro May Have Apple's Thinnest Bezels Yet
These upgrades will reportedly come for a price, though.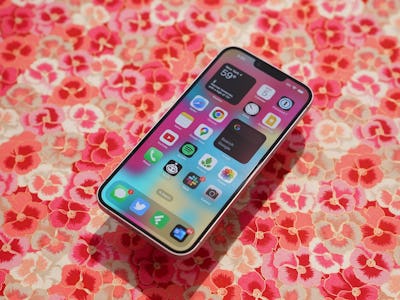 Photograph by Ray Wong
We're only a few weeks out from Apple's official announcement of the iPhone 15, but we already have a good idea of what the next-gen smartphone will offer.
In addition to switching to USB-C, Apple will put its thinnest bezels yet on the iPhone 15 and introduce a new aside titanium chassis according to the latest report from Bloomberg's Mark Gurman.
ALL THE UPGRADES
It's been a long time coming, but the iPhone 15 will be the first iPhone to incorporate USB-C instead of the Lightning connector. With USB-C, iPhone users will get faster data transfer speeds and will only need one charger for Apple products.
According to Gurman, Apple is reducing the bezel thickness for the iPhone 15 to 1.5 millimeters, down from the iPhone 14's 2.2-millimeter bezels. That's all wrapped in a titanium frame that's meant to be lighter and stronger.
The latest report points to an improved camera and better performance with Apple's new A16 chip. Apple is also changing the design of its mute switch and replacing it with the Action Button that's looking to add a lot of one-press functionality to the iPhone 15.
And for fans of the Dynamic Island, there's good news: Apple is reportedly bringing the feature to all iPhone 15 models instead of just the Pro versions.
POTENTIAL PRICE INCREASE
All these upgrades may come with a price increase, though. Gurman noted that there may be a price increase for all four iPhone 15 models, particularly since they will use titanium. As we see with the titanium Apple Watch Ultra, Apple charges $100 more for its premium model as compared to the stainless steel Apple Watch Series 8. According to MacRumors, the price difference for the iPhone 15 Pro Max could be as much as a $200 upgrade. We'll know for sure this fall when Apple officially announces the iPhone 15.