The iPhone 15 Pro Might Actually Feel Good in the Hand Again
A major leak suggests this year's iPhone 15 Pro will look and feel less like a brick.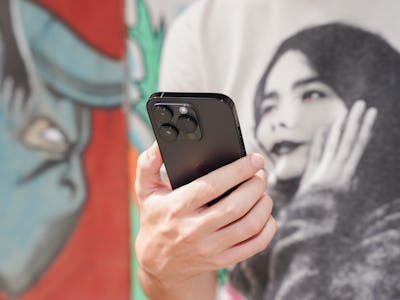 Raymond Wong / Inverse
If leaked renders courtesy of 9to5Mac are anything to go on, the iPhone 15 Pro might look just different enough from the iPhone 14 Pros with a rugged design borrowed from the Apple Watch Ultra.
The move would follow last year's attempt to further differentiate the regular iPhone 14s and the iPhone 14 Pros in terms of design and features. It's also part of what seems like a larger trend at Apple. After over a decade of prioritizing excellent form over almost everything else, the company will apparently embrace the chewy nugget of functionality, and the iPhone 15 Pro could be all the better for it.
Less like jewelry
The iPhone 14 Pro looks great, but in practice, the physical wrapper Apple puts around its powerful custom silicon and iOS 16 is increasingly unwieldy. The flat stainless steel edges on iPhone Pros are durable and look beautiful in photos, but the material collects fingerprints like nobody's business. Not to mention, stainless steel is heavy and not the most comfortable to use. Those kinds of problems are even more noticeable on bigger devices like the iPhone Pro Max, which is impossible to hold with one hand for most people.
It seems like the luxury status symbol side of the iPhone Pro has been obscuring too much of what makes it a powerful and reliable tool. And as much as Apple products might be discussed as pseudo-fashion objects (and occasionally sold as such) they have to be competent gadgets too. The iPhone 15 Pro seems set to rectify that.
The renders, based on leaked CAD files from a case manufacturer, suggest the iPhone 15 Pro will come with a bigger camera — perhaps to make room for a new periscope lens — and it'll also have smaller bezels, a slightly more compact size, and more rounded edges that could feel a bit better in hand. Artist renders based on the leak show rounded sides that resemble the same industrial design on the 14- and 16-inch MacBook Pros. This seemingly small change would be a break from the straight edges introduced with the iPhone 12 series — and a possible big tweak to make good "hand feel" a thing again.
Combined with the possibility of an Apple Watch Ultra-esque titanium frame, the iPhone 15 Pro could be just as strong as previous phones, and a fair bit lighter too. Titanium, after all, is significantly lighter and more durable than stainless steel and aluminum.
That might make the iPhone 15 Pro less luxurious (though I doubt that will be reflected in the price) but it could make it more functional. I can already imagine not having gold iPhone bricks weighing peoples' pants down or hurting wrists just from holding it up. If the iPhone 15 Pro is going to be sold as a creation tool and a pocket computer, it's time for the ergonomics to reflect that.
Making the iPhone Pro Actually pro
That's a familiar stance for Apple as of late. From the Apple Watch Ultra, where the company is comfortable selling a bigger, clunkier watch that's capable of a lot more, to the MacBook Pros, which are boxy, sure, but also filled with ports, Apple is increasingly choosing function over form.
If we sound like broken records on this — we've celebrated the same aspects of the Mac Studio — it's because it still seems so unusual. Apple is the company that's still selling a mouse that charges upside down and an entry-level iPad that requires a dongle to charge up an Apple Pencil, seemingly because of aesthetics. Under former Chief Design Officer Jony Ive, Apple never let practicality get in the way of something it thought looked novel, but that era seems to be in the rear-view mirror.
Choosing functionality — be it USB-C replacing the Lightning port or gently curved edges that make an iPhone actually good to use in the hand — is a strategy that seems to be working for Apple. This year's changes to the iPhone 15 Pro might appear to be surface level come launch time this fall, but it'd be a much-needed swing back in the opposite direction of pure luxury.