7 Features the 10th Anniversary 'Apple Watch X' Should Have
For the Apple Watch's 10th birthday, Apple needs to really wow on every level.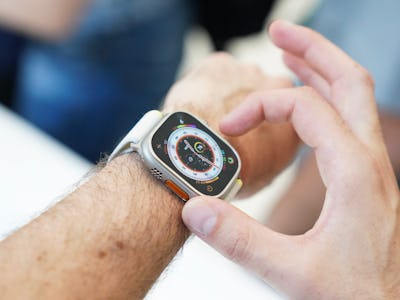 Photograph by Raymond Wong
According to Bloomberg's Mark Gurman, the Apple Watch Series 9 and Watch Ultra 2 that will be announced next month alongside the iPhone 15 will be pretty similar to the Series 8 and Watch Ultra. That's because Apple is reportedly saving the big design for release in 2024 or 2025.
Tentatively called the "Apple Watch X," it would mark the 10th anniversary of the original smartwatch. The Apple Watch was announced in 2014 and released in the spring of 2015. How has it already been a decade of Apple Watch? Time flies... when you're closing your fitness rings.
As somebody who has been using the Apple Watch on and off (but mostly on) for 10 years, that got me thinking. What new features do I want to see in the Apple Watch X? I might look back and be completely wrong, but maybe I'll bullseye a few. In no specific order, here's my Apple Watch X wishlist.
7. An All-New Design
This is the most obvious request. Other than the Apple Watch Ultra, the regular Apple Watches haven't really changed much since the original. The screens got a little larger, the bezels a little thinner, and the corners rounder; but the general shape of the Apple Watch has gone mostly unchanged for a decade. On the one hand, it's a testament to how timeless the Apple Watch design is — an Apple Watch Series 3 or 4, especially the stainless steel or ceramic models, still look great today as they did in 2017 and 2018, respectively. But on the other, it's time for a design refresh.
Back in 2021, there were rumors and even "leaked" renders of an Apple Watch Series 7 with a flat-sided case. That design never happened. I don't know if that design was ever real, but if it was, I wouldn't be mad if Apple released it.
6. A Camera for FaceTime and Selfies
I use my Apple Watch to take calls a lot. When I'm cooking; when I'm out for a walk; when riding my bike. I would love to able to FaceTime directly on my watch. It'd be more convenient than putting my iPhone or iPad on a dock while my mom is roasting me on how I'm botching her recipes.
And if there's a camera for FaceTime video calls, it might as well be for selfies too. Just think about it: holding your arm up in the air and snapping a shot directly from your wrist. "Siri, take a selfie" sells itself.
The bezels on an Apple Watch are too thin to fit a camera, but maybe an under-display one would do the trick? The 4-megapixel under-display camera on the Samsung Galaxy Z Fold 5 looks terrible for a 7.6-inch display, but for one that's around 1.5 inches? The image would look a lot sharper.
5. Action Button for Every Model
If there's any feature to copy and paste from the Apple Watch Ultra, it's the customizable Action button. In addition to activating a siren, the Action button can be mapped to activate actions related to workout, stopwatch, waypoint, backtrack, dive, flashlight, or shortcut.
I get that Apple likes to reserve some features for its premium devices, but almost everyone I know who uses an Apple Watch has told me they want to see the Action button on a non-Ultra Watch.
4. More Health Sensors
I'm a sucker for stories where an Apple Watch saves someone's life. It makes me feel good knowing that technology is helping in a critical situation and acting like a guardian for my health. Apple has slowly added more health sensors to the Apple Watch over the years, though not at a pace that would push people to upgrade IMO.
The Series 8 added a body-temperature sensor and the Series 6 added a blood-oyxgen sensor. I'm no medical expert so I'm not sure what sensors would be the most practical to add in the Apple Watch X. One that I do know a lot of people would appreciate: blood glucose tracking.
According to Bloomberg, Apple is already looking into it. "The goal of this secret endeavor — dubbed E5 — is to measure how much glucose is in someone's body without needing to prick the skin for blood."
Putting a non-invasive blood glucose monitor in the Apple Watch could be a game-changer for diabetics.
3. Fix the Barren App Situation
Calling all Apple Watch owners: when was the last time you installed an app on your smartwatch? When was the last time you saw an app that made you want to install it? If you answered, "never" or "not in a long time" you're not alone. The Apple Watch has an app problem. It's not that there aren't third-party apps for the Apple Watch — just not enough that do anything great.
To be honest, I'm not sure if having better apps on the Apple Watch even matters anymore. But it'd be great if Apple tried to make the platform more attractive for developers. Why aren't there more Watch-specific games? Why are most apps just controls or widget-like extensions of their iOS apps? Why are there still no third-party watch faces?
2. Battery Life That Lasts More Than A Day
Another thing that I think we can agree should be lifted from the Apple Watch Ultra: multi-day battery life. The Apple Watch Ultra lasts up to 36 hours on average and up to 60 hours in Low Power Mode. The Apple Watch Series 8 lasts up to 18 hours on average and up to 36 hours in Low Power Mode.
It'd be great to not have to charge the Apple Watch X every night. And while Apple is at it, make charging even faster. I'd love to get 100 percent charge in less than an hour. Right now, the Series 8 takes 75 minutes to reach full and the Apple Watch Ultra takes 1.5 hours.
1. Switch to Qi Wireless Charging
Speaking of charging, can we ditch the proprietary magnetic charger in the Apple Watch for the Qi wireless charging standard? All my Qi-based wireless charging pads for phones and wireless earbuds would appreciate it. And it'd finally allow AirPower-like multi-coil wireless charging pads like the Tesla Wireless Charging Pad to work with Apple Watches.